Back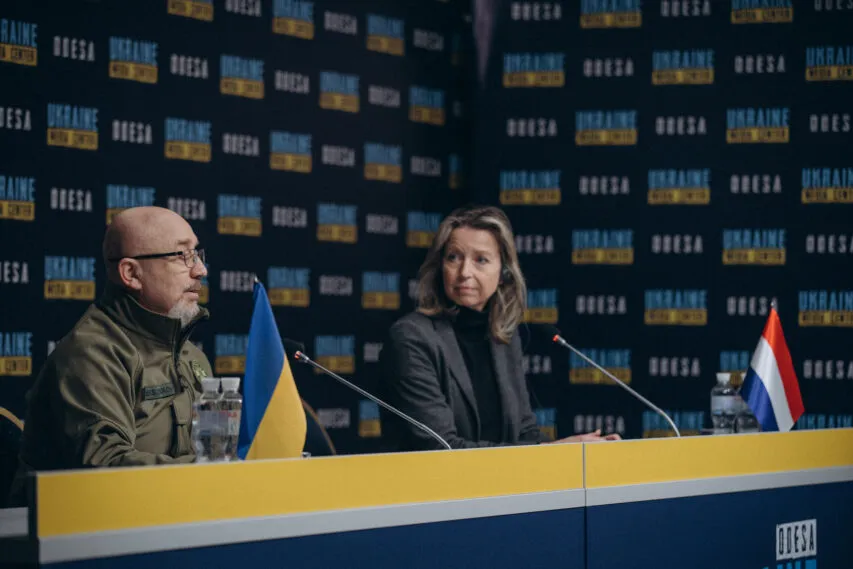 Photo by Media Center Ukraine – Odesa: Oleksii Reznikov, Minister of Defense of Ukraine; Kajsa Ollongren, Minister of Defense of the Kingdom of the Netherlands
March 14, 2023, 17:17
"The discussion regarding the main combat aircraft for Ukraine is going on behind closed doors" – Netherlands
Such a statement was made by Kaisa Ollongren, Minister of Defense of the Kingdom of the Netherlands, during a briefing at the Media Center Ukraine – Odesa.
Commenting on the possible supply of combat aircraft to Ukraine, Kaisa Ollongren noted that now the allies are looking for a unified platform.
"We're talking about different kinds of capabilities, and now we have to focus on standardization. For air defense, we are looking for the best platform, discussion is in progress. These debates are better to be held behind closed doors, and we are at this stage right now, – the Dutch Defense Minister said.
The Minister of Defense of Ukraine Oleksii Reznikov added that providing Ukraine with the main combat aircraft will speed up the counteroffensive and make it more successful.
"Any general is taught in the academy – if you plan to launch a serious counteroffensive, you must fulfil three factors. First, it is necessary to move the enemy into defense so that he sits on the defensive. The second is to stop his dominance in the air. And thirdly, start destroying its logistics chains. In these two tasks, the basis is aviation. And the sooner we get a combat aircraft, the better," added Oleksii Reznikov.
He also added that the Russians are currently preparing for a Ukrainian counteroffensive.
"The russians study very well, that's why they are already in the defensive. Yesterday, at the briefing, we were shown where they dig trenches, by the way, in Crimea as well. This means that they are preparing for defense. The russians believe that the Ukrainians will launch a counteroffensive. And this is a good sign. We are already creating the future. They have already lost. Once they went on the defensive in their special military operation, they have already lost this war," Oleksii Reznikov said.
On January 20, Dutch Foreign Minister Wopke Hoekstra said that the government is potentially ready to discuss Ukraine's request for the provision of F-16 fighter jets.
Read more: https://mediacenter.org.ua/news