Back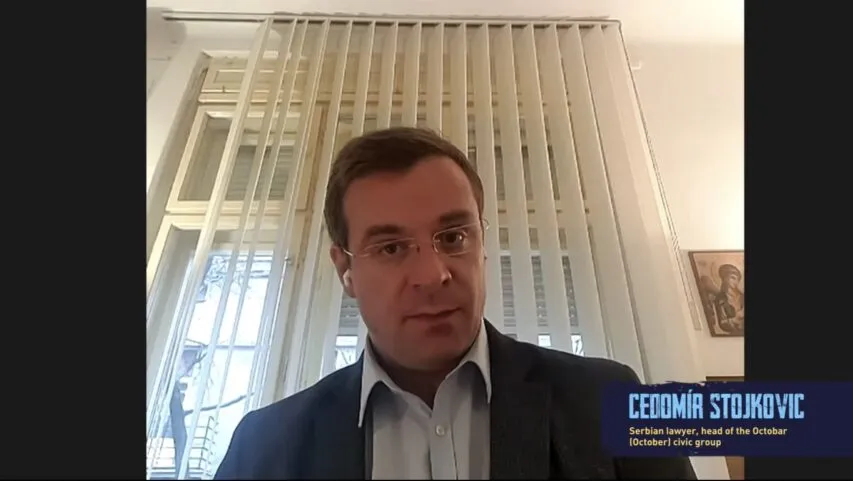 Photo by Media Center Ukraine – Odesa: Čedomír Stojković, Serbian lawyer, head of the Octobar (October) civic group
March 10, 2023, 16:11
Some Serbian football fan groups are controlled by russian special services – Serbian social activist Cedomir Stojkovic
And they could really be involved in the attempted coup d'état in Moldova. This opinion was expressed by Čedomír Stojković, a Serbian lawyer, head of the Octobar civic group, during a briefing at the Media Center Ukraine – Odesa.
He noted that the fanatical movement has been financed by Russian special services since 2008.
"The fans are under the control of the special services of russia. The leaders of these groups are brainwashed, and some fans really believe that, for example, they should go to Moldova for some kind of surgery. If we return to this case with Serbian football fans who were not allowed to enter Moldova, I can guarantee that the activities of these fans are organized by the special services of russia," – the lawyer said.
He added that Serbian football fans are representatives of right-wing radical organizations, "they are the same people."
"Extremist organizations have been financed since 2008 by Gazprom, which owns the oil industry of Serbia. "Gazprom" also owns many football clubs through the oil and gas sector," the lawyer added.
Read more: https://mediacenter.org.ua/news