Back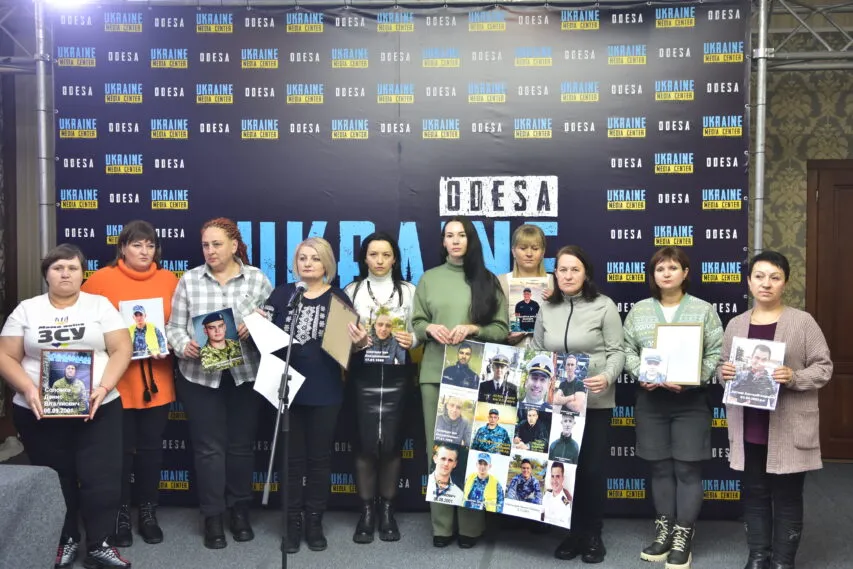 Photo by Media Center Ukraine — Odesa: Inna Filimonova, (mother of Denys Solomko, "Slovyansk"), Iryna Katolichenko (mother of Volodymyr Katolichenko, "Slovyansk") Tetyana Sherishorina (mother of Nikita Sherishorin, "Slovyansk"), Tetyana Tukmachova, (mother of Serhii Tukmachov, "Stanislav") Yulia Riznyk, (sister of Ivan Kalapyshchuk, "Slovyansk") Alesya Aulina (wife of Damir Aulin, commander of the cutter "Slovyansk"), Yulia Shvaba (mother of Yaroslav Tanasiychuk, "Slovyansk") Inna Sukhorukova (mother of Oleksandr Sukhorukov, "Stanislav") Tetyana Tolkachova (mother of Dmytro Tolkachev, "Slovyansk"), Alyona Sytnyk (mother of Anatoly Sytnyk, "Slovyansk")
November 29, 2022, 11:58
Relatives of 16 missing Ukrainian sailors are asking international organizations to help put pressure on the aggressor country
It is necessary to grant the military sailors of cutters "Slovyansk" and "Stanislav" the status of prisoners of war. Such a statement was made by relatives of Ukrainian defenders during a briefing at the Media Center Ukraine-Odesa.
"On March 3, the cutter "Slovyansk" went on a military assignment and was hit by a missile and later sank. 8 people were rescued, 11 are missing. Since then, we have been collecting information, looking for our children, and are almost 100% sure that they are alive and in captivity. But we cannot achieve the status of prisoners of war for the children," said Tatiana Sherishorina, mother of Mykyta Sherishorin, the youngest member of the crew of both boats, who turned 19 on the eve of the battle.
As Alesya Aulina, the wife of the commander of the "Slovyansk" boat, added, the relatives are trying to reach international organizations on their own. This can push the aggressor state to recognize the sailors as prisoners of war.
Tetyana Tolkachova, the wife of a crew member of the "Stanislav" boat, said that the boat sank during the operation to liberate the Zmeiniy Island on May 7. Then 5 crew members went missing. "Our children are being buried at a military facility, and they do not recognize our children as prisoners of war, they have some profit from this," the woman said.
Inna Sukhorukova, mother of Oleksandr Sukhorukov, a member of the crew of the boat "Stanislav" added: "We want to be heard by all international organizations, the UN, the International Red Cross. Everyone who can pressure the aggressor to recognize our relatives as prisoners of war. Ukraine is doing everything possible for this, but it does not have the same influence as international structures. Please help us."
Relatives of sailors of the crews of the сutters "Stanislav" and "Slovyansk":
Alesya Aulina (wife of Damir Aulina, commander of the boat "Slovyansk")
Iryna Katolichenko (mother of Volodymyr Katolichenko, "Slovyansk")
Yulia Riznyk, (sister of Ivan Kalapyshchuk, "Slovyansk")
Inna Sukhorukova (mother of Oleksandr Sukhorukov, "Stanislav")
Alyona Sytnyk (mother of Anatoly Sytnyk, "Slovyansk")
Tetyana Tolkachova (mother of Dmytro Tolkachov, "Slovyansk")
Tetyana Tukmachova, (mother of Serhiy Tukmachova, "Stanislav")
Yulia Shvaba (mother of Yaroslav Tanasiychuk, "Slovyansk")
Tatyana Sherishorina (mother of Nikita Sherishorina, "Slovyansk")
Inna Filimonova, (mother of Denis Solomko, "Slovyansk")
Read more: https://mediacenter.org.ua/news