Back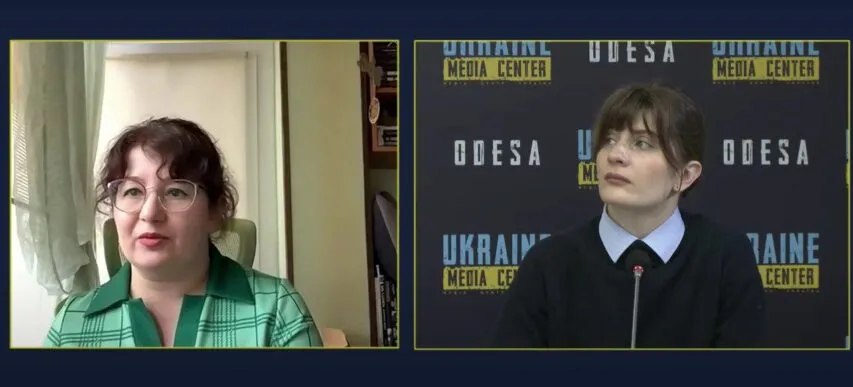 Photo by Media Center Ukraine – Odesa: Beata Kurkul, artist; Inga Kordynovska, lawyer and managing partner of "ID Partners" law firm;
February 3, 2023, 17:28
Publicity, the administration of social networks and even the tax service can protect the artist from illegal use of his artwork – a copyright lawyer
To start a lawsuit is the only thing you can do to seek justice. Inga Kordynovska, a lawyer and managing partner of the law firm ID Partners, told this during the briefing "Art piracy during the war: why you can't steal someone else's artwork and make money" at the Media Center Ukraine – Odesa.
As the specialist noted, Ukraine still has not developed a culture of respect for copyright. "A lot of people don't understand that you can't just copy a picture on the Internet and use it as you like. This goes back to the Soviet Union, when nobody talked about copyright. But every image has an author and an owner," Inga Kordynovska said.
As the artist Beata Kurkul said, she has been drawing Ukrainian soldiers since 2014. The cases of unauthorized use of her work have been resolved through dialogue.
"But after the full-scale invasion, the use of my work for commercial purposes without my permission became more frequent. I saw that my artworks were sold as puzzles even in "Epicenter" and on the Internet as diamond embroidery, on T-shirts. Few times it was possible to remove these products. But there was a case when the dealer just banned me after my claim," the artist said.
The artist Alisa Zhabinets also faced the use of her work without permission. "It was the Jinsovik store, which sold t-shirts with my drawings. When I told them about it, they politely got rid of me. When I screenshotted everything and asked my followers to share this video, the store removed the product from sale and brought apologies", Alisa Zhabinets said.
Inga Kordynovska noted that copyrights in Ukraine do not require registration. The rights to an artwork are assigned to the author from the moment of creation. "But you can actually register copyrights, so it will be possible to prove that this is exactly your style," the specialist said.
If the artist sees the sale of goods with his work in large chains, then he should complain to the administration of such stores. "We have a reputation institute, and it takes a lot of effort for a small producer to get his product to large networks. And removing it from sale will be very expensive for such a dealer," the lawyer said.
Complaints to the administration of social networks are also an effective method, adds Kordynovska. They work according to the laws of countries where copyright infringement is taken very seriously. "Many such entrepreneurs work through social networks and make great efforts to promote their pages. And when their accounts are blocked, it will cost them a lot, they will lose a huge part of their profits," the lawyer added.
If such a product is sold on small online stores, the artist can complain to the tax service, Kordynovska added. "Usually, such sites work even without registering as an individual entrepreneur. And the tax service will find many violations – for example, violations of the rules of electronic commerce," the lawyer said.
She also added that if such methods did not work, it is worth going to court. "It will be possible to achieve payment of earned funds and moral compensation," Inga Kordynovska said.
Read more: https://mediacenter.org.ua/news