Back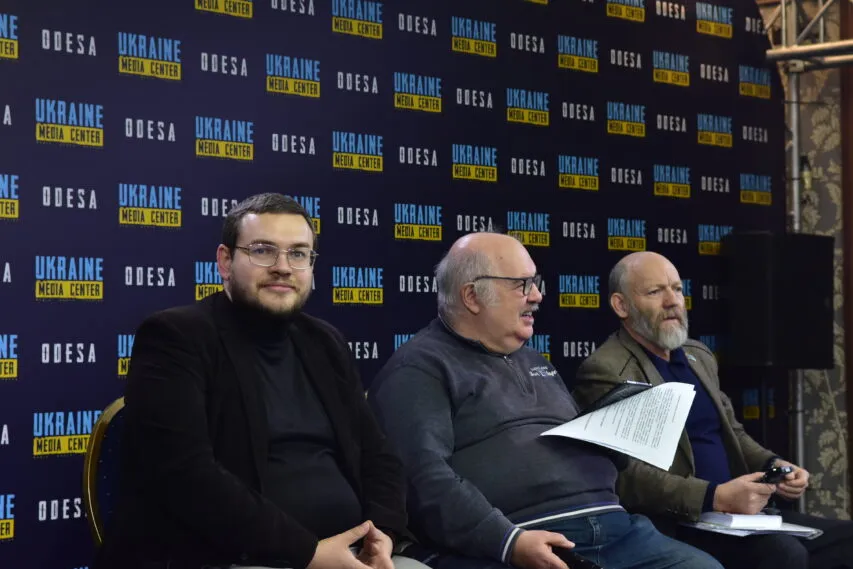 Photo by Media Center Ukraine — Odesa: Valerii Bolgan, cheif editor Izbirkom newspaper, Leonid Shtekel, chief editor of Odessa Daily; Yury Rabotin, head of the National Union of Journalists of Ukraine in Odessa region;
November 18, 2022, 17:04
Odessa's journalists demand from the President impose a moratorium on any legislative changes in the field of media during the war
The initiator of the plea, the chief editor of Odesa Daily, Leonid Shtekel made this statement during a briefing at the Ukraine-Odesa Media Center.
"During wartime, real discussion of legislative changes is impossible. And the majority of citizens do not understand what changes in legislation certain political movements want to make under their breath. We are against hasty changes, without a broad and professional political discussion," said Leonid Shtekel.
As the chief editor of the "Izbrikom" newspaper, Valery Bolgan, added, now the so-called draft law "About information".
"These changes should bring Ukrainian laws into line with European norms in matters of personal information protection. But in fact, in the draft law, they are stricter than in Europe. 10% is about Europe, 90% – local innovations. If the draft law is adopted, it will actually lead to a ban on a whole range of journalistic activities. We cannot publish video and photo materials without the permission of everyone who got into the frame and did not give permission to shoot, even if it was in a public place," added Valery Bolgan.
The head of the branch of the National Union of Journalists of Ukraine in the Odesa region, Yury Rabotin, added that the professional union supports the demands of colleagues. 36 journalists signed the plea of Odesa colleagues.
The draft law "On media" No. 2693-d was adopted by the Verkhovna Rada on August 30, 2022, in the first reading. Its text immediately drew criticism from the part of journalistic community.
Read more: https://mediacenter.org.ua/news