Back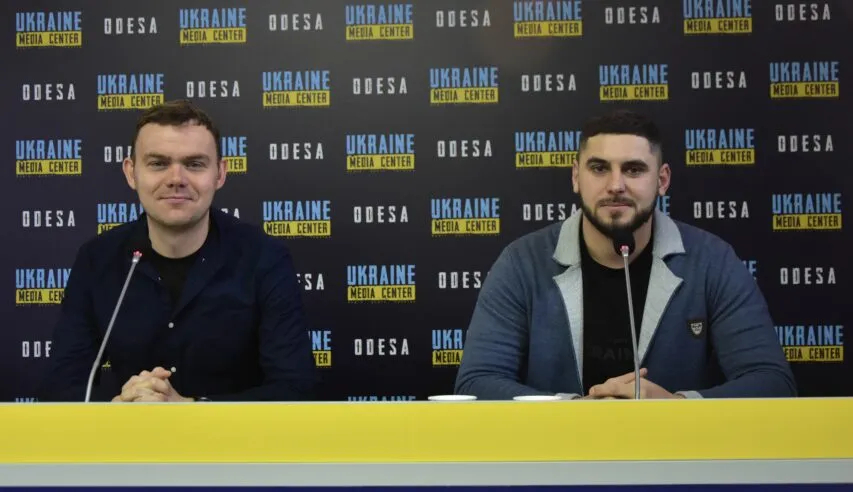 Photo by Media Center Ukraine – Odesa: Volodymyr Savchenko, head of the "Misto Maybutnogo"(City of the Future) project; Vladyslav Mykhaylenko, PhD in ecology, assistant of the department of ecology and environmental protection of the Odesa State Ecological University, member of the Council of Young Scientists at the Odesa Regional Administration, coordinator of the "Misto Maybutnogo"(City of the Future)
January 24, 2023, 12:22
Odesa volunteers "turned" 11 million plastic caps into emergency auto for the military
More than 50 cities and towns of Ukraine joined the initiative of Odessian volonteers to collected plastic. Volodymyr Savchenko, head of the "Misto maybutnyogo"(City of the Future) project of the "Spilna meta"(Common Goal) volunteer movement, told about this during a briefing at the Media Center Ukraine-Odesa.
"6 regional centers joined to our initiative. We collected plastic cap for 9 months, children and senior people sorted them on the spot. In total, 11 tons of plastic, 11 million caps were collected. Then we handed over this plastic for recycling, and with the money we received, we bought an ambulance that will go to the Bakhmut area to the 67th brigade," Volodymyr Savchenko said.
As the volunteer added, the authors of the idea managed to get about 3.5 thousand USD for the recycled material. The car itself cost about 5 thousand USD, so volunteers collected the difference by announcing an additional fee. The Odesa Regional Military Administration helped equip the ambulance.
Vladyslav Mykhaylenko, coordinator of the "Misto Maybutnogo"(City of the Future), added, the volunteers plan to involve schools in the collection of caps.
"We received a letter from the Odesa regional military administration. Every school in the Odesa region will collect and sort plastic, and the authorities will help us with logistics. Schools collect quickly, and if they were open now, we would have collected for this car in a month. Sumy and Cherkasy regions also want to join us," the volunteer said.
As Volodymyr Savchenko noted, since the beginning of the large-scale aggression, the "Spilna meta"(Common Goal) volunteer movement has already purchased more than 60 vehicles for the army.
Read more: https://mediacenter.org.ua/news