Back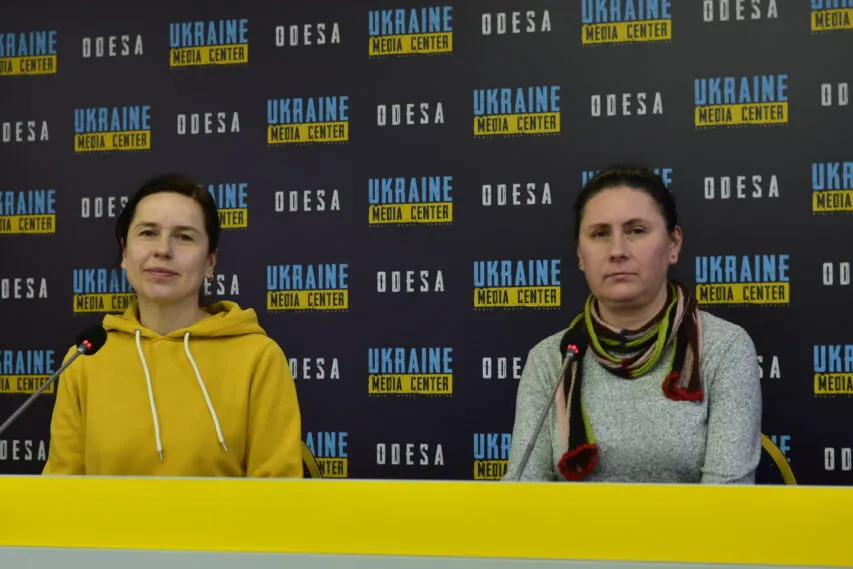 Photo by Media Center Ukraine – Odesa: Olha Mykhailiuk, author of the idea of the project "Nobody is an Island" and its visualization; Myroslava Hanyushkina, director of the ArtPole Agency;
December 23, 2022, 12:38
"No man is an island" – on December 25, Odessa residents will be able to "see and hear" Kherson, Mariupol and Odesa
An audiovisual journey about the Ukrainian south was announced during a briefing at the Media Center Ukraine-Odesa. Olha Mykhailiuk, author of the idea of the "No man is an island" project and its visualization, and Myroslava Hanyushkina, director of the ArtPole Agency, told media the story of the project.
The project "No man is an island" was established last year, when media artist Olha Mykhailiuk and sound artist SK.EIN created a joint work about Crimea, about the proximity and impossibility of touch, about borders and relationships.
"This year we wanted to invite more musicians, but due to a full-scale invasion, we ended up in different places – Suren Voskanyan in the basement in Mariupol, and we in the volunteer headquarters in Kyiv. However, two weeks ago they were able to meet and began rehearsals – despite the lack of light and the need to rehearse in the basement," Olha Mykhailiuk said.
During December, the audiovisual story about the Ukrainian south was already presented in Kyiv, Gdańsk, Wrocław and Warsaw, and now it is Odesa's turn.
"The people of Odesa will see a little more than other cities. So, back in December in Warsaw, Polish musicians Tomas Sikora, Raphael Roginski, Oleksiy Worsoba and Benjamin Cope recorded an improvisational greeting to Odesa. And it will be possible to hear him," Myroslava Hanyushkina added.
Mariupol musician Suren Voskanyan will improvise on the duduk, a clarinet and a saxophone, and Olha Mykhailiuk will show her visual impression of Kherson, Mariupol and Odesa.
"Mariupol is the Sea of Azov with the metallic taste of "Azovstal", Kherson is an endless sky and an endless steppe. And Odesa is always different, although I have been here countless times," the video artist added.
The concert will take place on December 25 at 17:00 at More Music Club. Admission is free, but donations are welcome.
Read more: https://mediacenter.org.ua/news