Back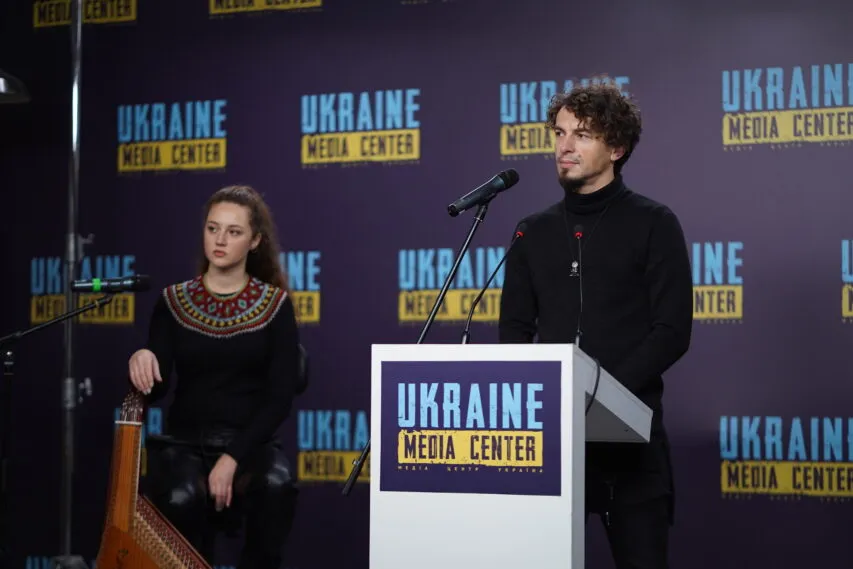 Participants of the briefing, Media Center Ukraine.
November 28, 2022, 13:41
More Than 18,000 Euros Were Collected in Montenegro, and Up to 10,000 Euros in France: Ukrainian Artists Went On a Charity Tour of Europe to Say "Thank You!"
The Ukrainian artists with a real authentic sound and Ukrainian songs went on a charity tour of Europe to say "Thank you!". They wanted to express their gratitude to those who help Ukrainians in various ways during russia's full-scale invasion. The participants of the tour included Oleg Skrypka, Khrystyna Soloviy, PATSYKI Z FRANEKA and B&B Project bands. Nazar Khudyn, Leader of PATSYKI Z FRANEKA band, told about the tour outcomes during the briefing at the Media Center Ukraine.
"In Montenegro, we collected more than 18,000 euros at a big concert. The funds were transferred to the Charity Foundation of Serhiy Prytula. In France, we collected up to 10,000 euros, which were transferred in the scope of humanitarian aid to Ukrainian foundations. And about one of the small missions that we took on. We are good friends with Dmytro Povorozniuk, football player and football blogger. In summer, he organized a children's football camp based on the football club "Rukh" (movement) and it included a lot of little football players-refugees from Mariupol, from all the hot spots in Ukraine, and we just said at the concert: we have such a friend, he does such a thing. And if each of us now (and there are a thousand of us here) will give at least one euro, then four little boys will go to this camp for free. And we have collected more than ten trip vouchers for children who went," Nazar Khudyn explained.
The artist also said what the performers wanted to convey to those people abroad for whom the issues of war are strange.
"Our task as artists was to convey that it is difficult for us, that we are struggling. That we are fighting for free Europe, because Ukraine is a shield on the border of Europe in fact," Nazar Khudyn added.
Please see details about the charity tour here.
Read more: https://mediacenter.org.ua/news