Back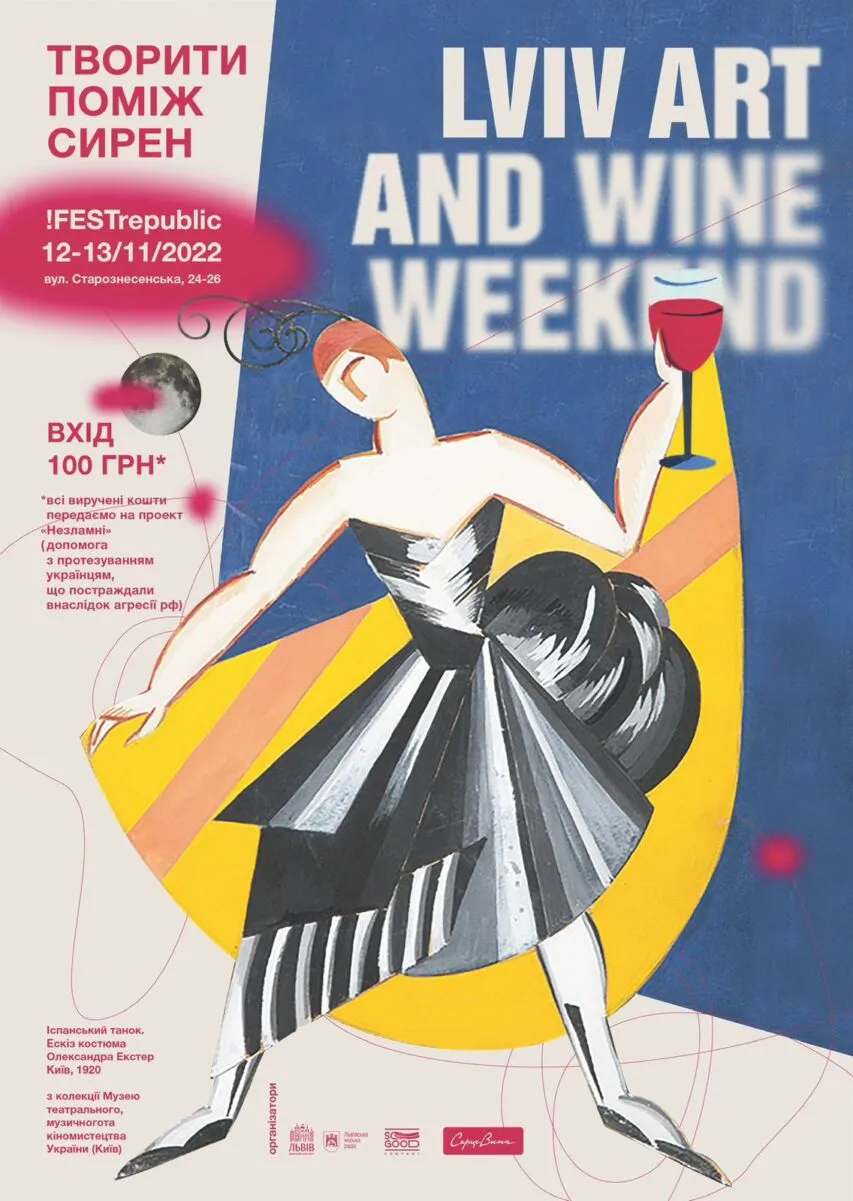 November 2, 2022, 14:21
Lviv Art and Wine Weekend: Wine and Art Festival Will Take Place on November 12–13 in Lviv
On November 12–13, Lviv will host the Lviv Art and Wine Weekend wine and art festival. The new format of artistic and gastronomic interaction will become a unique platform for the support of Ukrainian winemakers and artists during the war.
The program of the two-day event includes a wine market to feature more than 20 winemakers from all over Ukraine, the art exhibition and the forum where it will be talked about the future of Ukrainian wine, the high-quality cooperation and mutual support in communities, how to sell Ukrainian wine and much more. Inna Klyap, co-founder of the event agency "So Good Company" and co-organizer of the festival, said this during the briefing at the Media Center Ukraine.
"The location will feature a wine market where we invite about 20 winemakers, including the art market, and the lecture hall where we will raise topics related to the wine sphere and the art sphere. There will be a stage with chamber music, where we wish to invite artists," Inna Klyap said.
"We will host a lot of cool Ukrainian artists (at the festival — Ed.). It will be painting, sculpture and poster… The authors are now under discussion, but we want to invite more of those who had to leave or stayed in the occupied territories to a certain extent. We need to demonstrate these things," Zirka Savka, Art Project Manager, added.
According to Khrystyna Lebed, Event Co-Organizer and Head of Tourism Office of the Lviv City Council, the purpose of the festival is not only to develop Ukrainian winemaking and art and their promotion among Ukrainians. The event also has a benevolent aspect.
"In addition, the main purpose of our event is a benevolent part. All funds that we will receive from the entrance fee will go to prosthetic repair for Ukrainians who lost their limbs due to russian aggression. This prosthetic repair is carried out in Lviv based on the Unbroken Rehabilitation Center. Also, a part of funds that will be raised from the sale of products by winemakers will also go to prosthetic repairs," Khrystyna Lebed added.
Read more: https://mediacenter.org.ua/news