Back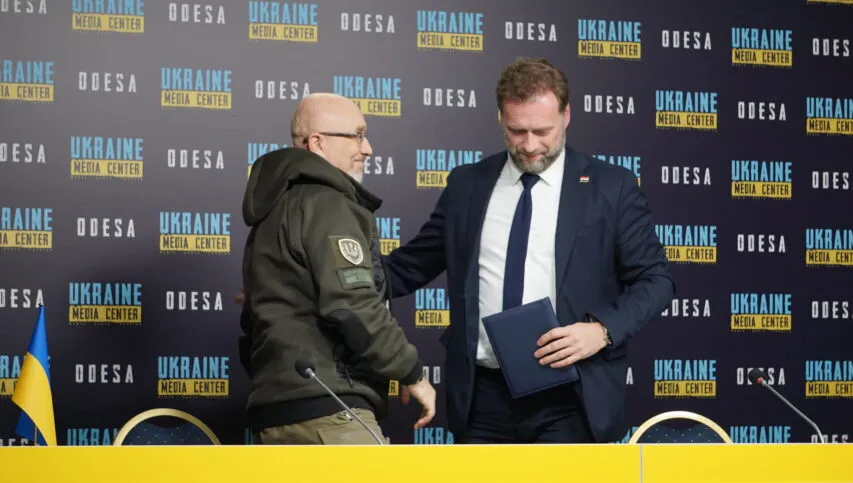 Photo by Media Center Ukraine – Odesa: Oleksii Reznikov, Minister of Defense of Ukraine; Mario Banožić, Minister of Defense of the Republic of Croatia
March 29, 2023, 18:19
It's only a matter of time before Ukraine receives the 4th generation combat aircraft – the Minister of Defense of Ukraine
But with the receipt of the main combat aircraft, the Ukrainian counteroffensive will not begin immediately. This was announced by Oleksii Reznikov, the Minister of Defense of Ukraine, during a briefing with Mario Banozic, the Minister of Defense of Croatia, at Media Center Ukraine – Odesa.
"The main combat aircraft is, first of all, a part of our air defense, this is postulate No. 1. This is the element that we still lack in order to consider that the air defense system has been created quite effectively. For a counteroffensive, it is very important to have air superiority. We will proceed from the available resources and realities… It is only a matter of time before we get a modern 4th generation combat aircraft, we will have them, I have no doubt about that," – the Minister of Defense of Ukraine said.
Oleksii Reznikov also noted that obtaining aircraft and pilot training will take some time, so "the option of a counteroffensive and obtaining aircraft will be separated in time."
Oleksii Reznikov also denied the information that Ukraine received Mirage 2000 aircraft from France and the information that the Ukrainian military is now in control of this aircraft.
"I would like to give a technical understanding. Today, the Armed Forces have a MiG-29 fighter that can "see" with a radar at a distance of 60 km, and hit air targets at a distance of 30 km. The enemy on the Su-35 "sees" more than 200 km, can hit air targets at a distance of more than 140 km. The Mirage 2000 has the same performance as the MiG 29. We will be happy to have any aircraft platforms, but the main combat aircraft must be more modern, with the ability to "see" more than 200 km, and strike at more than 150 km." – noted official.
His colleague Mario Banožić added that he hopes that the Croatian government will complete the transfer of 14 Mi-8 helicopters to Ukraine in the near future.
Read more: https://mediacenter.org.ua/news