Back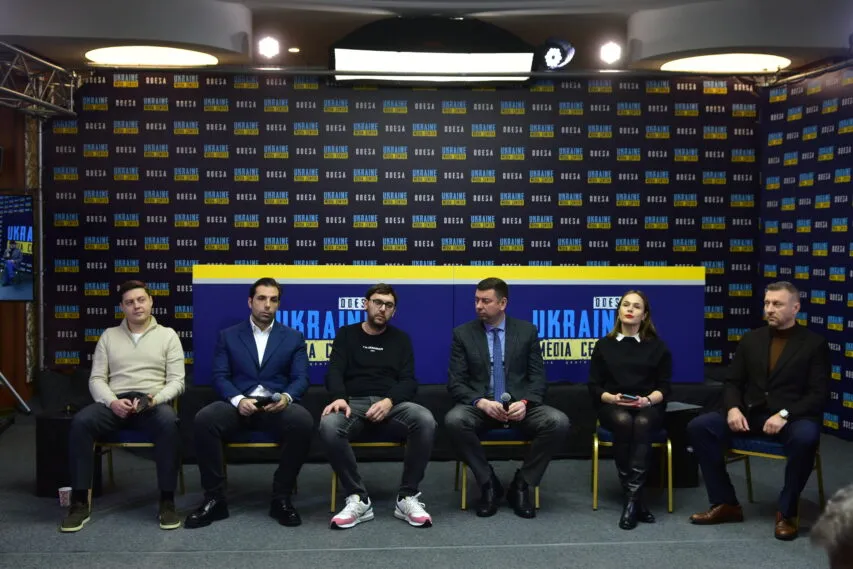 Photo by Media Center Ukraine – Odesa: Oleksandr Avdeev, Head of the department of state architectural and construction control of the Odesa city council; Vasylis Bumburas, executive director of the construction company "Gefest"; Oleg Levkovskyi, head of marketing and advertising department of "Odecom Development"; Denys Drevnytskyi, Head of Odesa Regional Office of JSC Oschadbank; Hanna Shevchenko, deputy head of the branch of Odesa regional administration of JSC "Oschadbank" for retail business; Oleksandr Zlochevskyi, co-founder of the company "Akvarel";
February 7, 2023, 15:27
In 2022, construction permits were registered in Odesa 8 times less than a year ago
In 2022, the department of state architectural and construction control of the Odesa City Council registered only 300 such documents – permits for the start and the finish of construction works. In previous years over 2.5 thousand such documents were registered per year. Oleksandr Avdeev, head of the state architectural and construction control department of the Odesa City Council, told about this during a panel discussion at the Media Center Ukraine – Odesa.
Howevver the official could not answer how many objects are currently being built in the city.
"There are more than 80 construction sites in Odesa today. But I can't say exactly how many of them operate. Because they may not work today, but tomorrow will resume construction. There are many causes for that. For example, builders ordered construction materials from another country, and they had a problem with logistics. We also have difficulties with electricity supply," Oleksandr Avdeev noted. He added that last year, several companies put in commission a few objects.
Vasylis Bumburas, executive director of the construction company "Gefest", noted that his company put in commission almost 1,500 apartments during a year of the war. Oleksandr Zlochevskyi, co-founder of the "Akvarel" company, said that the company put in commission 2 residential complexes last year, and four are currently being completed.
The "Odecom Development" company put in commission 100,000 square meters in high-rise buildings. In 2023, the company plans to hand over another large residential complex, noted Oleg Levkovskyi, head of marketing and advertising department of "Odecom Development".
Read more: https://mediacenter.org.ua/news