Back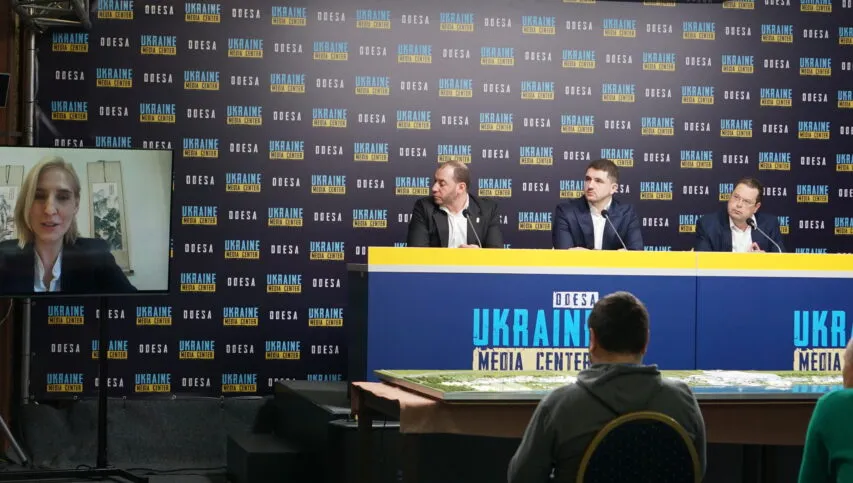 Photo by Media Center Ukraine – Odesa: Oleksandra Vasylenko, director of the Department of economic diplomacy of the Ministry of Foreign Affairs of Ukraine; Evgeny Levyenberg, chairman of the EXPO 2030 Odesa Public Council; Roman Hrygoryshyn, deputy head of the Odesa regional military administration; Vadym Morokhovsky, head of the board of EXPO 2030 Odesa
March 28, 2023, 16:41
In 2 months, we'll find out will Odesa enter the final voting for the right to hold EXPO 2030 or will not
The research missions of the International Bureau of Exhibitions will study the applications of Odesa's competitors – Riyadh, Seoul and Rome. Roman Hrygoryshyn, Deputy Head of the Odesa Regional Military Administration, said this during a briefing at Media Center Ukraine – Odesa.
"Now we are in the pre-final stage. If we pass it, we will definitely be participants in the final voting. Last week, March 22-23, there was a research commission in Paris. Our team presented the project there. In the next two months, the research mission is coming to our competitors – Riyadh, Seoul, Rome. I am pretty sure we are crazy, we are indestructible, and we will definitely win EXPO 2030 for Ukraine," – Hryhoryshyn said.
He added that the research mission has already studied the application of Riyadh and Odesa. They will be working in Seoul next week. In 3 weeks – in Rome. Two months later, the executive committee of the World Exhibition Bureau must approve the researchers' reports.
Oleksandra Vasylenko, director of the Department of Economic Diplomacy of the Ministry of Foreign Affairs of Ukraine, noted that holding EXPO 2030 in Odesa is a priority for Ukraine.
"For us, this is an opportunity to show what a unique and multifaceted country we are. In the headquarters of the International Bureau of Exhibitions, you may hear "Wow! Are all these things really in Ukraine?" And for us, EXPO 2030 is an opportunity for tourism, economic, and logistics development. We did everything to win the November 2023 vote in Paris," – the diplomat said.
She also noted that she hopes that the research mission will take into account the fact that Odessa's application was in discriminatory conditions. The experts of the International Bureau of Exhibitions visited the competing countries, but Odessa was presented online.
Roman Hrygoryshyn noted that, in his opinion, one of the main advantages of Odesa is that the EXPO has not been held in Eastern Europe before.
He added that the dossier of Odesa's application will be published in June, when the conclusions of the research mission regarding the other participants are available.
Click the link below to watch the full video of the presentation.
Read more: https://mediacenter.org.ua/news