Back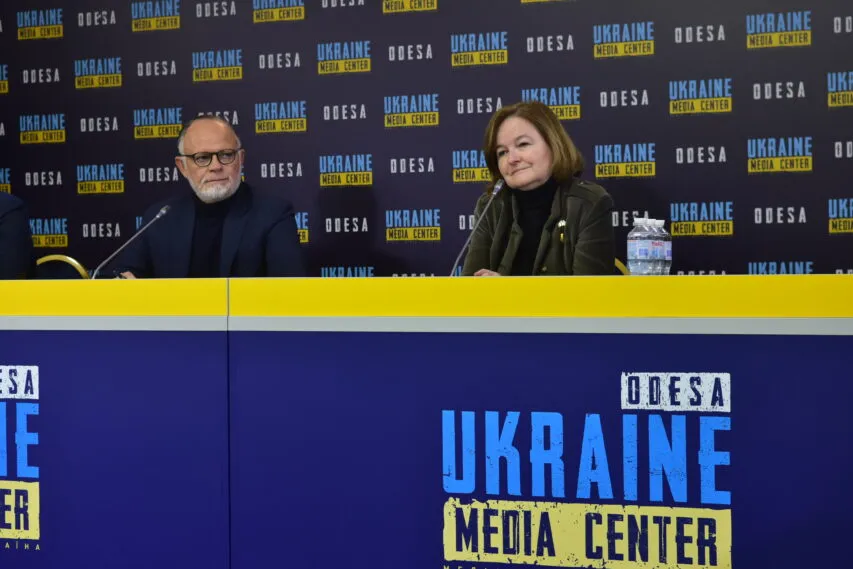 Photo by Media Center Ukraine – Odesa: Édouard Philippe, Mayor of Le Havre, Prime Minister of France in 2017-2020, Chairman of the Horizons party; Nathalie Loiseau, Member of the European Parliament, former Minister for European Affairs
December 21, 2022, 17:43
France fulfilled 100% of its promises to Ukraine – a member of the European Parliament from France
This applies to all types of aid – financial, humanitarian and military. Such a statement was made by Natalie Loiseau, a member of the European Parliament, former minister of European affairs of the French government, during a briefing at the Media Center Ukraine-Odesa.
"France fulfilled 100% of the promises it made to Ukraine. Moreover, France, as a member of the EU, compensates 20% of the EU's expenses for military, humanitarian and military aid to Ukraine," the deputy noted.
Natalie Loiseau also added that France does not disclose the full of military aid to Ukraine.
As Édouard Philippe, mayor of Le Havre, prime minister of France in 2017-2020 noted, one of his tasks now is to encourage the communities of French cities and communes to join in supporting Ukraine.
"We call on people to help with cars and energy equipment. Our delegation also included mayors of other cities, such as Nice, and we have already collected 15 generators and 25 cars, which will arrive in Ukraine in January," added the mayor of Havre.
He also added that there are currently 230 Ukrainian refugees in Le Havre. In total, more than 100,000 Ukrainians found refuge in France.
Read more: https://mediacenter.org.ua/news