Back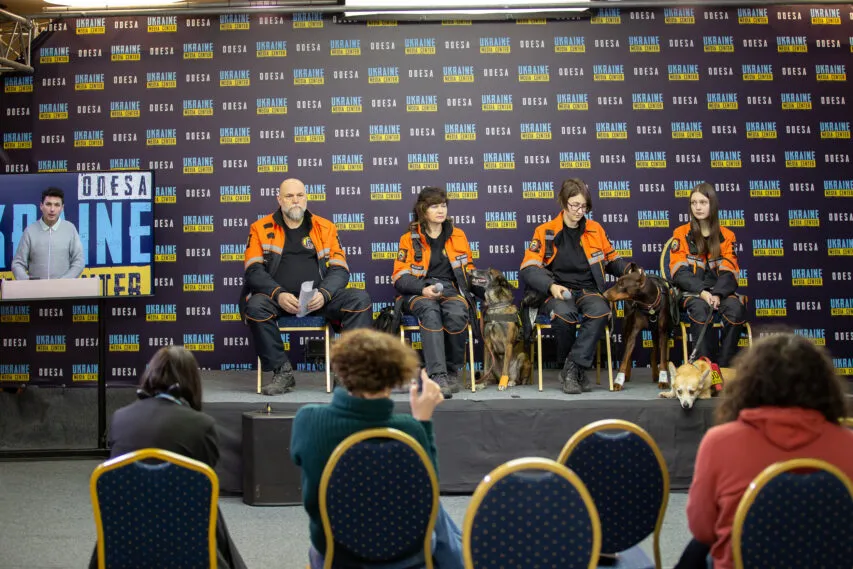 Photo by Media Center Ukraine – Odesa: Petro Zub, driver, cynologist Larysa Borysenko, head of NGO "Pavlograd Search and Rescue Canine Squad "Antares"; Karina Kolesnichenko, cynologist; Maria Romanova, cynologist
January 24, 2023, 16:13
For almost a day, the dogs of the "Antares" search and rescue squad worked in the city of the tragedy in Dnipro
The dogs started working on the rubble two hours after the missile strike. Larisa Borysenko, head of the NGO "Pavlograd Search and Rescue Canine Squad "Antares", told about this during a briefing at the Media Center Ukraine-Odesa.
"We found out about the rocket strike in Dnipro at 4:00 pm. We talked with emergency services in Pavlohrad, and were on site at 06-15 pm. Half an hour later rescue workers started the rescue operation. After the fire was extinguished and we were admitted, we started working. Unfortunately, after the first inspection, we realized that there are no living people under the rubble. In general, from the moment of arrival, we did not leave the rubble for 22 hours," Larisa Borysenko noted.
As the specialist added, the next day, January 15, the dogs continued to work and showed the rescuers new places where the rescuers continued to retrieve the dead from under the rubble.
Read more: https://mediacenter.org.ua/news