Back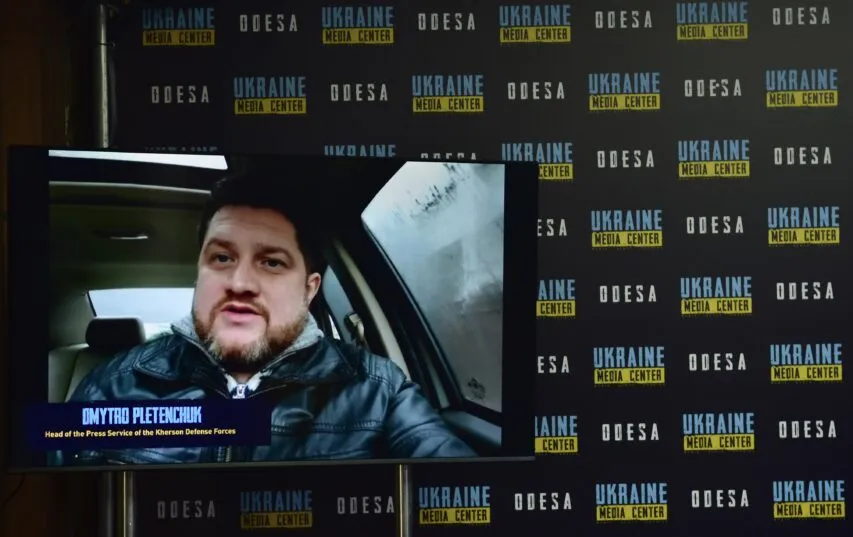 Photo by Media Center Ukraine – Odesa: Dmytro Pletenchuk, Head of the Press Service of the Kherson Defense Forces
December 13, 2022, 12:02
"Evacuation from the left bank of the Kherson oblast is impossible and was not announced" – the press service of the Kherson defense forces
russians do not accept any agreements and do not coorganize any "green corridors". Dmytro Pletenchuk, Head of the Press Service of the Kherson Defense Forces, made this statement during a briefing at the Media Center Ukraine – Odesa.
As the officer explained, some people really remained on the left bank of the Dnipro river – they were stuck there in their little cotteges when the russian army left Kherson.
"It`s only possible to return from there by water, but the river is also the way for diverse and reconnaissance groups of russian military. So there is a complete ban on using private boats and vessel", – said Dmytro Pletenchuk.
As the officer noted, the authorities temporarily lifted the ban so people could leave the left bank of the Kherson oblast. It was possible for three days and only at a certain point on the right bank.
"But of course, people still went out, despite the ban. The Armed Forces of Ukraine did not open fire, but the russians did shot an elderly man and woman on the water in the area of Golaya Prystan," said Dmytro Pletenchuk.
Read more: https://mediacenter.org.ua/news