Back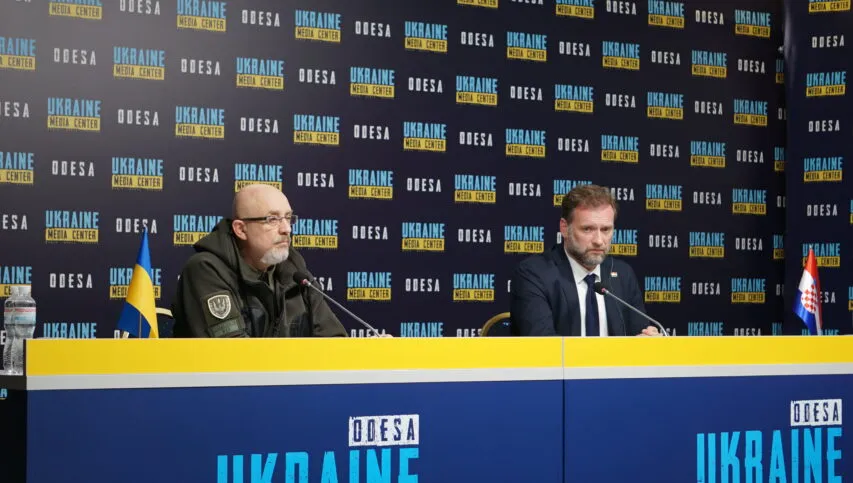 Photo by Media Center Ukraine – Odesa: Oleksii Reznikov, Minister of Defense of Ukraine; Mario Banožić, Minister of Defense of the Republic of Croatia
March 29, 2023, 18:09
Croatia can train Ukrainian mine clearance instructors – Minister of Defense of Ukraine
The armed forces of Croatia have "great experience in humanitarian demining". It was announced by Oleksii Reznikov, the Minister of Defense of Ukraine, during a briefing with Mario Banozic, the Minister of Defense of Croatia, at the Media Center Ukraine – Odesa.
"Croatia has a fantastic demining experience. This is a country that has been engaged in humanitarian demining for more than 25 years and continues to do so, because it is a legacy of the war. They have a very powerful national demining center, so we discussed the possibility of training our instructors for humanitarian demining of our lands and waters,"– the Minister of Defense of Ukraine said.
"Our experience of the war in the 90s is the reason why we know what is happening right now and why you are right. We also talk about veterans care and post-war activities like demining. Since the war started, the Croatian government has provided assistance – political, diplomatic, financial, and technological support. We will not stop. Croatia will continue to help in various ways," – Mario Banožić said.
Oleksii Reznikov added that the parties agreed on further cooperation of training Ukrainian instructors for humanitarian demining.
Read more: https://mediacenter.org.ua/news