Back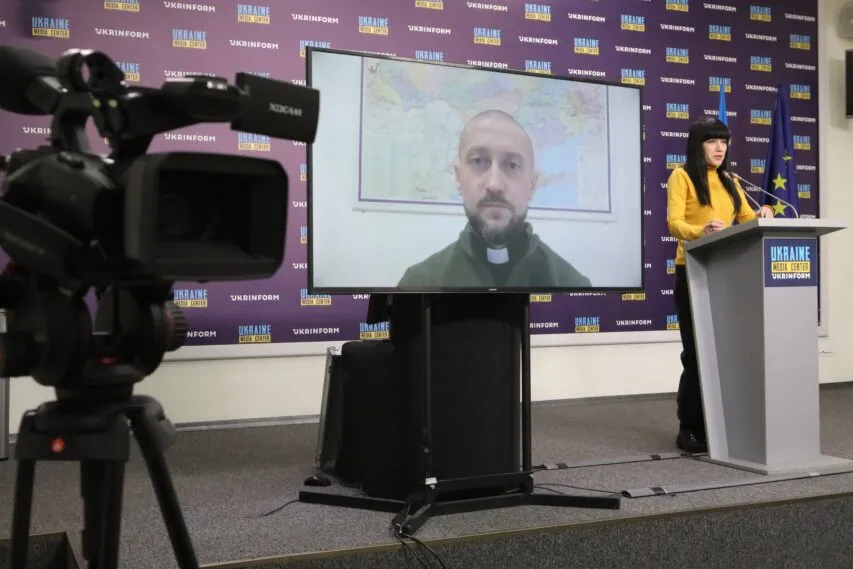 Andriy Zelinskyy, priest of Ukrainian Greek Catholic Church, army chaplain, Media Center Ukraine — Ukrinform
December 21, 2022, 13:37
An Army Chaplain Supports the Morale of a Ukrainian Soldier; Hundreds of Chaplains Are Needed Now – Andriy Zelinskyy, Priest of Ukrainian Greek Catholic Church
Today, an army chaplain in Ukraine is a serviceman who needs training and plays a significant role in soldiers' morale support. Andriy Zelinskyy, priest of Ukrainian Greek Catholic Church, army chaplain, told this during the briefing at the Media Center Ukraine — Ukrinform.
"When trained and well aware of what they should do, military chaplains play an extremely important role in ensuring the most important component of our victory: the Ukrainian soldier's morale. Taking care of the human in people under the conditions when the most necessary things are lacking, when the threat becomes so close, when the challenges become so large-scale, is a special vocation," Andriy Zelinskyy explained.
"Now the Ukrainian army needs several hundred chaplains, and this need is being gradually met by representatives of different churches," Andriy Zelinskyy said, adding that today military chaplains in Ukraine receive special training to serve in the army.
"The Armed Forces of Ukraine have established a military chaplaincy service, which organizes training of military chaplains to serve in the army. The course has been provided that should help to acquire the basic competencies of a serviceman in a very short time, so that it is easier to integrate the team. We utilize the international experience of the civilized world, where an army chaplain remains primarily a pastor. This is not another combat unit. His concern should cover a large number of people who are in extreme combat conditions. This is exactly what we need to prepare the Ukrainian "soldiers of the spirit" for," Andriy Zelinskyy explained.
Read more: https://mediacenter.org.ua/news