Back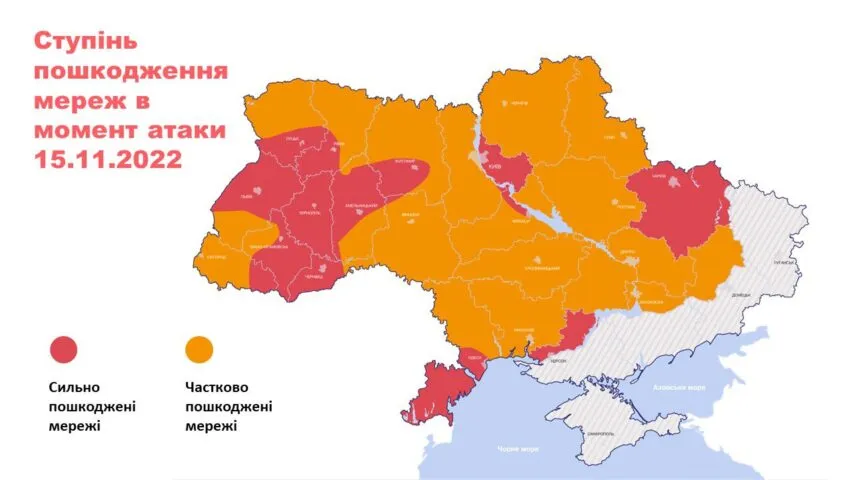 Volodymyr Kudrytskyi, CEO of Ukrenergo National Energy Company, Media Center Ukraine — Ukrinform
November 22, 2022, 14:25
After six massive missile attacks, almost none of Ukraine's thermal and hydroelectric plants remain undamaged — Ukrenergo
Last week, the Ukrainian power grid came under the sixth massive missile attack, which led to large-scale destruction, Volodymyr Kudrytskyi, CEO of Ukrenergo National Energy Company said at a briefing at Media Center Ukraine — Ukrinform.
"The sixth attack was the largest of all and the largest in history: about 100 heavy missiles were fired. The objects of the Ukrainian electrical grid were targeted. Mainly, these were Ukrenergo's substations and Ukrainian power plants that produce energy for consumers. 15 Ukrenergo objects were damaged on this day. After this attack, almost no thermal and hydroelectric power plants remain undamaged in Ukraine: practically all thermal and hydroelectric generation facilities, if we are talking about large power plants, were hit by rockets and damaged. Almost no junction substations of Ukrenergo remained undamaged. Each important substation was hit with something, some were hit three, five and even eight times. The scale of the destruction is colossal," — Kudrytskyi said.
As Ukrenergo CEO explained, substations are large and complex technological facilities, it takes time to produce and replace equipment for them. Ukrenergo had a sufficient supply of materials and equipment, so immediately after the air alert came to an end throughout the country on Tuesday, employees began to restore energy supply to citizens and stabilize the energy system.
"After each massive missile attack, it takes a certain amount of time to restore the capacity to deliver electricity to the majority of consumers through the Ukrainian power grid. And, as a rule, it takes from one to three days for the emergency shutdown schedules that we introduce so that the power system could work stably, to scale down, and for us to switch to the planned mode. Planned outage schedules are in effect from Saturday until today, the situation has stabilized," — Kudrytskyi said.
Read more: https://mediacenter.org.ua/news