Back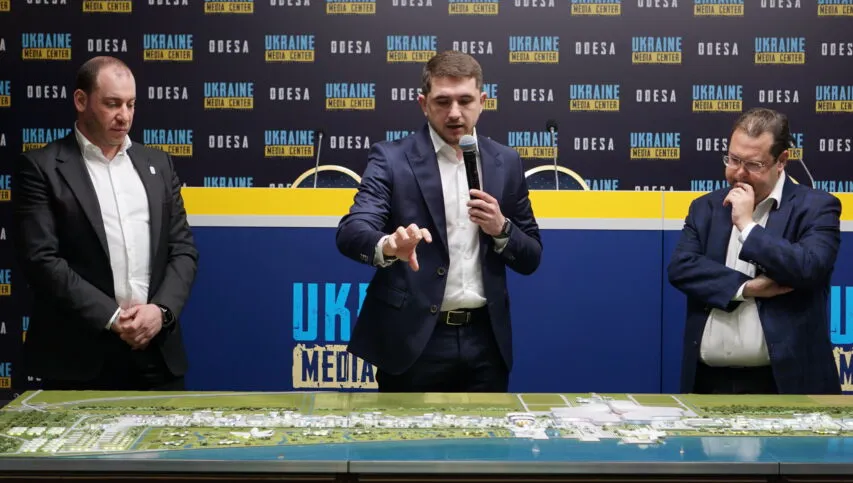 Photo by Media Center Ukraine – Odesa: Evgeny Levyenberg, chairman of the EXPO 2030 Odesa Public Council; Roman Hrygoryshyn, deputy head of the Odesa regional military administration; Vadym Morokhovsky, head of the board of EXPO 2030 Odesa
March 28, 2023, 16:15
A model of the EXPO 2030 exhibition complex was presented in Odesa
If Odesa wins, the world-known EXPO will be held on an area of 200–300 hectares in the so-called 'irrigated fields'. Evgeny Levyenberg, the chairman of the EXPO 2030 Odesa Public Council, spoke about it during the presentation at Media Center Ukraine – Odesa.
"The territory of EXPO 2030 is 200–300 hectares in the so-called "irrigated fields". This is a requirement of the International Exhibition Bureau – the project must solve the environmental problems of the place where the exhibition will be held. The pavilions will be made of eco-friendly materials – metal, carbon, plastic. There will be solar panels on the roof. The entire exhibition will provide itself electricity, warmth and coolness," – said Levyenberg.
He added that the design of the exhibition complex for Odesa was developed by Zaha Hadid Architects for free, because "they want to stand next to the winner."
"All the buildings that we see on the model are the constructor. All these buildings can be dismantled and transformed. Each country, after the end of the exhibition, will be able to either take the pavilion to itself and turn it into, for example, a school, or donate it to Ukraine," – said Roman Hrygoryshyn, deputy head of the Odesa Regional Military Administration.
"The dam of the Khadzhibeevsky estuary will also be completely modified, because the central exhibition pavilion will be located there," – Levyenberg added.
Evgen Levyenberg noted that a bypass road will be built: it will pass beyond the territory of EXPO 2030, in the depth of the "irrigated fields", will connect the "Klevyrny bridge" and will be continued beyond the "Kuyalnik" car market.
He said that according to the project of the new bypass road, large trucks will not be able to enter the city directly.
"There will be entertainment venues, cafés, and other necessary infrastructure between the exhibition pavilions. Even after the end of EXPO 2030, the Odesa exhibition pavilion will remain as an exhibition complex of Odesa and the southern region," – Grigoryshyn added.
Click the link below to watch the full video of the presentation.
Read more: https://mediacenter.org.ua/news