Back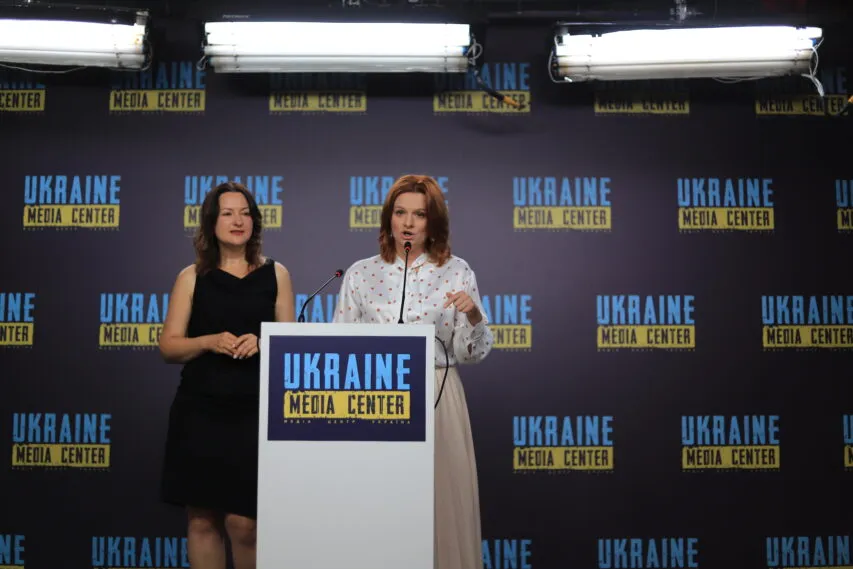 Наталія Кузьма та Ірина Снітинська у Медіацентрі Україна, 21 липня
July 21, 2022, 12:09
"Stories Time: Warriors of Light": a wandering exhibition of stories of Ukrainians to kick off in Lviv
On July 28, "Stories Time: Warriors of Light" charity event will take place in Lviv to kick off a wandering exhibition of stories of Ukrainians during the war. It will be a charity event, and the raised funds will be used to help the Armed Forces of Ukraine. Natalia Kuzma, Leader of the "Stories Time" project, author of the idea of a wandering exhibition of stories, spoke about this during a briefing at Media Center Ukraine. According to her, the stories of 6 people will be presented at the event: Andrii Kozinchuk, a veteran and a military psychologist, Halyna Moroz, Co-Leader of Help the Front NGO, Ivanka Dymyd, an icon painter, Volodymyr Mykhalyshyn, a volunteer and language advocate. Show business celebrity, who currently serves as paramedic, Taras Topolia will also join the event online from the frontlines as well as a soldier from Azov regiment, Viktor Rozovyi.
"We want to make it a wandering exhibition. There will be photos of these people and QR-codes via which you can listen to these stories: in Ukrainian, English, Polish or another language, depending on the country where we will go. So we can tell the world stories through the eyes of eyewitnesses," — Natalia Kuzma said.
According to Iryna Snitynska, founder of "Stories Time project," with the help of these stories, Ukrainians will be able to better understand their own history as well as tell it to the whole world.
"We have to tell the stories of our contemporaries in order to preserve them for future generations and realize who we are. Whose children we are, and what we can pass on to our children. But another goal is to prevent propaganda, because not everyone abroad understands what is happening. We must tell honest stories of Ukrainians," — Iryna Snitynska pointed out.
Read more: https://mediacenter.org.ua/news