Back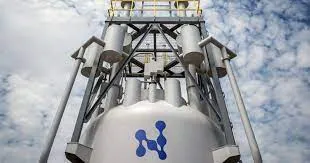 February 14, 2023, 17:04
Small modular reactors would help restore Ukraine's energy infrastructure and economy, but there is a number of obstacles — Plachkov
Ukraine's legislation currently does not allow licensing new technologies related to the creation of large power units or small modular reactors. Hryhorii Plachkov, Head of the State Inspectorate for Nuclear Regulation (2017–2021), made this statement at a briefing at Media Center Ukraine — Ukrinform.
"There is a decision by the Cabinet of Ministers regarding the development of conditions for the creation of large power units based on the American technology. There are developments regarding small modular reactors. But our legislation does not allow licensing any new technology yet. In my opinion, small modular reactors will help us restore not only the destroyed energy infrastructure, but the entire economy of the state," — the expert noted.
Plachkov explained that currently there is no place in the world where a small modular reactor is already in use. This is expected to happen by 2030.
"We need to start by changing the law so that Ukraine could license any new technology that will be licensed by other countries or regulators. Besides, I don't think any country would risk transferring such technologies during the war," — Plachkov added.
Read more: https://mediacenter.org.ua/news