Back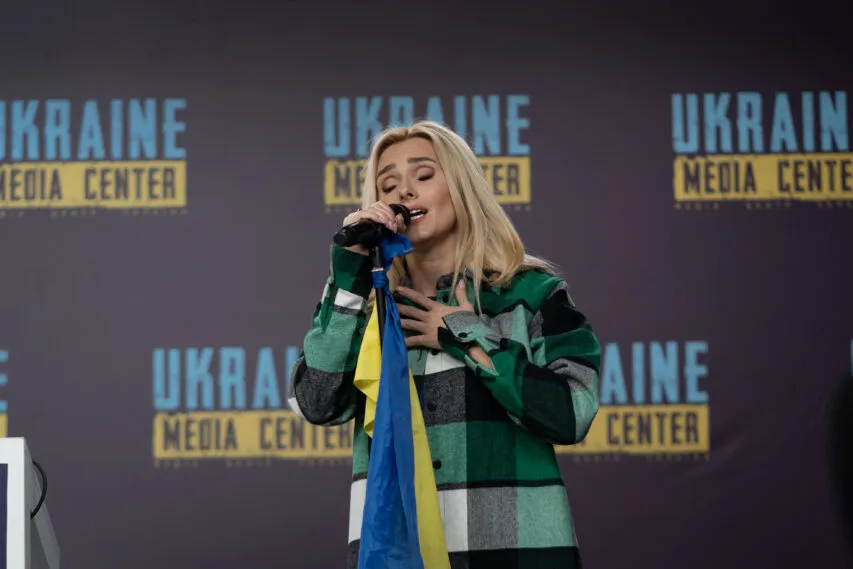 April 11, 2022, 12:59
Singer Iryna Fedyshyn Presented Her New Song. All Funds Raised from the Song Will Be Used to Support Ukraine's Armed Forces
"Gunned-down Spring — a new song by Iryna Fedyshyn — was made public only several days ago. The singer presented her new song for the first time during her briefing at Ukraine Media Center. She said that the song was born immediately after becoming aware of details of russian atrocities in Bucha in Kyiv Oblast.
"It is a cry from the heart of each Ukrainian. It is a pain we have to relive every day," the singer told.
She presented the song with Yevhen Khmara, a Ukrainian composer and virtuoso pianist. Working together, they adapted Fedyshyn's program for the acoustic performance to be able to support the Ukrainian military with concerts in the field.
"This war showed that Ukrainians are a unified people and that the Ukrainian spirit is reborn now. In this very short span of time, we have already given 10 concerts, with the 11th one to follow today. And there will be more. We believe in our victory. We believe that Ukraine has already won. We only need to make it official," Yevhen Khmara said.
The song is published on Iryna Fedyshyn's YouTube channel.  The singer will channel all funds from the monetization of the video to support Ukraine's Armed Forces.
Ukraine Media Center. Follow the news via the links below:
Website: https://mediacenter.org.ua/
Twitter: https://twitter.com/CenterUkraine
Facebook: https://www.facebook.com/UkraineMediaCenter/
YouTube: https://bit.ly/3whbxSm 
Telegram: https://t.me/lvivmediacenter