Back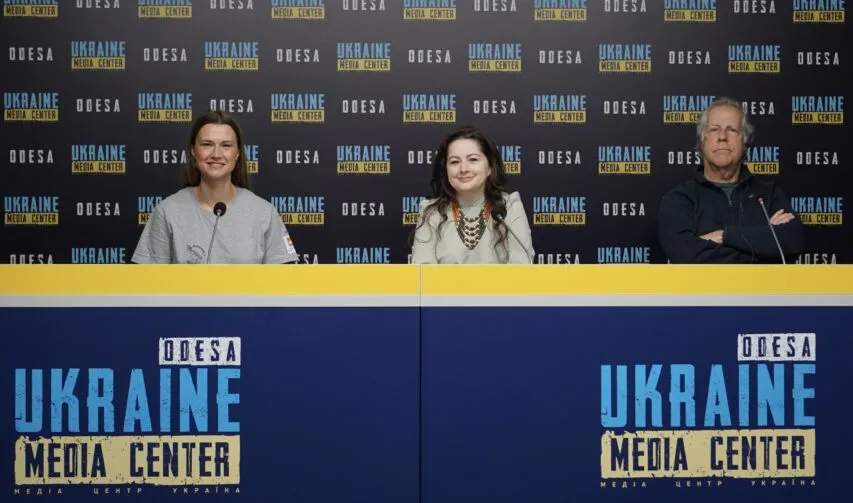 Photo by Media Center Ukraine – Odesa: Inna Bilous, director of the "Manifest Mira"(Peace Manifesto) charitable foundation; Natalya Mazharova, project manager of the "Odesa Aid Hub" project; Christian Hannemeyer, volunteer of the "Manifest Mira"(Peace Manifesto charitable foundation
April 13, 2023, 12:00
Since the full-scale invasion, the charity fund "Manifest Mira" has helped 82 thousand families in the southern Ukraine
There are 34,500 children and 4,080 people with disabilities among them. Inna Bilous, director of the "Manifest Mira" (Peace Manifesto) charitable foundation, told about this at a briefing at the Media Center Ukraine – Odesa.
"We started the Peace Manifesto fund in March 2022, and for more than a year, we have helped 82,000 families, including 34,500 children. We drove 25,000 kilometers to deliver 50,000 tons of humanitarian aid," – the volunteer said.
She said that the fund focuses on helping remote settlements. Those, which are not reached by other charitable organizations or local authorities.
"In June we launched Odesa Aid Hub project – this is a logistics hub to receive foreign aid and deliver it to Odesa, Mykolaiv Oblast and Kherson Oblast, to remote settlements. We mainly deliver food, clothes, hygiene kits, and diapers. For example, we delivered diapers to over 4 thousand people with disabilities. During this time, we visited 62 communities, helped IDPs, people in difficult life circumstances, families with many children," – Natalya Mazharova, project manager of the "Odesa Aid Hub" project said.
She also noted that in the summer and autumn, the fund plans to focus its efforts on helping residents of occupied and liberated settlements in the Mykolaiv and Kherson oblasts.
"I ask community representatives, informal leaders of the most war affected villages to contact us. We will discuss your needs and plan how to bring the most useful humanitarian aid to your people," – the volunteer added.
Read more: https://mediacenter.org.ua/news