Back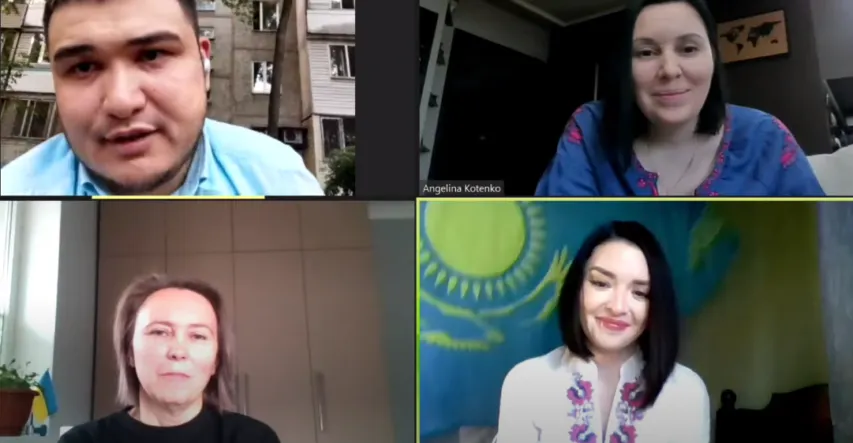 Photo by Media Center Ukraine – Odesa: Assyl Turgayev, volunteer, Kazakhstan (Astana); Angelina Kotenko, organizer of the aid headquarters in Almaty "My z vamy" (We are with you); Tetyana Melnyk, volunteer, humanitarian support headquarters of Ukraine in Astana, co-organizer of charity fairs in Astana; Dinara Sabytova, volunteer, Kazakhstan (Almaty);
June 27, 2023, 17:38
Since the 24.02.2022 volunteers from Kazakhstan have sent 550 tons of humanitarian aid to Ukraine
That's 29 trucks, and the 30th is currently being formed. This was reported at a briefing at the Media Center Ukraine – Odesa by Tetyana Melnyk, a volunteer at the Humanitarian Support Center of Ukraine in Astana, co-organizer of charity fairs in Astana.
She noted that this is humanitarian aid collected by people of Kazakhstan.
"The Humanitarian Support Center of Ukraine in Astana consolidates all the humanitarian aid collected in Kazakhstan, which is then sent home by the Ukrainian Embassy. Over the entire period of the war, we have collected about 550 tons of aid, which is 29 trucks, 30 are currently being formed. We are focusing on helping the victims of the Kakhovka hydroelectric power plant dam explosion – long-life food, nappies, etc.", – the volunteer said.
She also said that she and other volunteers have organized more than 80 charity fairs in support of Ukraine. Thanks to these events, they managed to purchase generators, gifts for the holidays, and sports equipment for displaced children in Brovary.
Angelina Kotenko, organizer of the aid headquarters in Almaty "My z vamy" (We are with you), also added that several humanitarian foundations operate in Astana. "We are also focusing on collecting money to help the victims in Kherson region. We buy what we can buy in Kazakhstan and send it to Ukraine. And for what needs to be bought in Ukraine, such as medicines, we raise money and send it to our friends in Ukraine," – the volunteer said.
She also added that the We Are With You Foundation organizes holidays for residents of Kazakhstan and Ukrainians.

"Recently, we organized an embroidery day, it was fun, and refugees from Ukraine, mostly mothers with children and elderly people, were able to distract themselves and relax," – the volunteer said.
Volunteer Dinara Sabitova from Almaty said she was able to help raise funds for the invincibility yurt when russia was shelling Ukraine's energy infrastructure.
"When I saw comments thanking Ukrainians for these yurts on social media, I wrote a post calling for money to be raised for another one. Many people responded and sent money from the very first days, and I used the money to buy aid for Ukrainians… But then one businessman paid for everything on his own. Now this yurt is installed in Mykolaiv," – the volunteer added.
Read more: https://mediacenter.org.ua/news