Back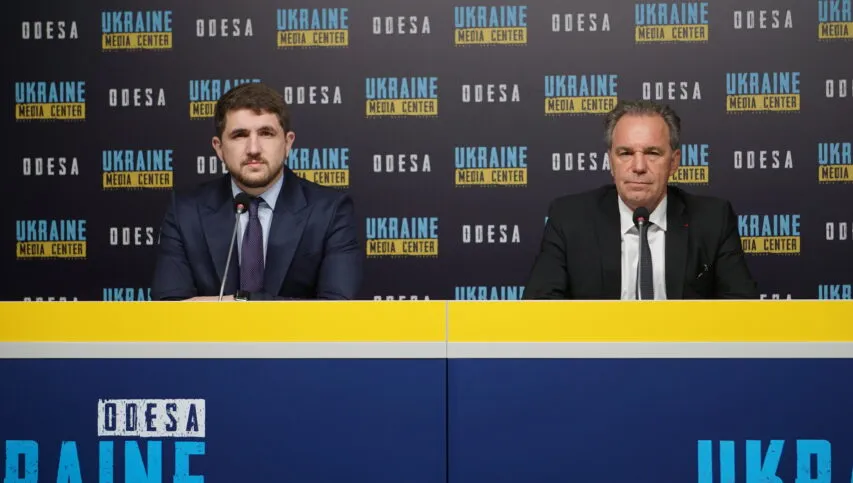 Photo by Media Center Ukraine – Odesa: Roman Hrygoryshyn, deputy head of the Odesa regional military administration; Renaud Muselier, President of the Regional Council of Provence-Alpes-Côte d'Azur, France
April 19, 2023, 19:19
Since February 2022 Marseille has accepted 5,000 Ukrainian refugees
These are mostly women and children. Renaud Muselier, President of the Regional Council of Provence-Alpes-Côte d'Azur, France, told about this at a briefing about the signing of a cooperation agreement with the Odesa oblast in the Media Center Ukraine – Odesa.
"Since the beginning of the full-scale war, Marseille has accepted 5,000 refugees from Ukraine, mostly women and children. 11 million euros were allocated to help them," – the official said.
He also added that within the framework of the cooperation agreement, the parties plan to exchange experience in the development of ports, tourism, and agriculture.
"We will exchange port development specialists. The mayor of Odesa is interested in my experience in renovating the docks of the port of Marseille, and he is counting on my help. We also have rich experience in the processing of agricultural raw materials, we will promote the exchange of experience in this area. And tourism. Our region ranks 2nd in France in terms of tourist attractiveness, we have our own tool for tourism development and increasing tourist attractiveness. And we will provide this tool to colleagues in Odesa," – Monsieur Muselier said.
He also added that in June 2023, the French region will hand over three modern resuscitation tables to the Odesa Regional Children's Hospital.
Read more: https://mediacenter.org.ua/news