Back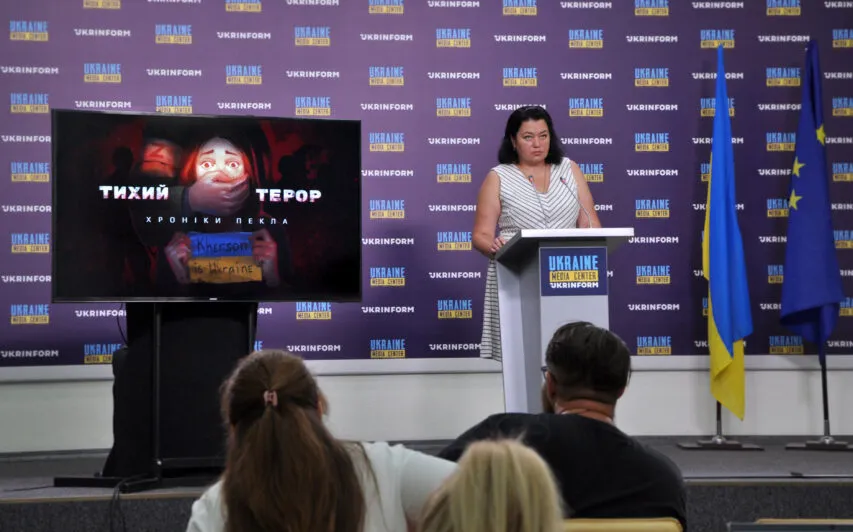 Елизавета Татарінова, режисерка документального фільму «Тихий терор. Хроніки пекла», Медіацентр Україна - Укрінформ, 29липня
July 29, 2022, 16:14
Silent terror in Kherson: documentary about atrocities committed by russian occupiers in occupied city presented in Kyiv
Documentary film "Silent Terror. Chronicles of Hell" tells about the life in Kherson, which has been occupied by russian troops since the first days of the war. The russian propaganda tries to create a picture of "peaceful life" in the south of Ukraine, but in reality, russia kidnaps and tortures people, keeps Kherson residents in informational isolation, and does not allow them to leave the occupied region. However, Kherson resists. The tape contains documentary footage and stories of people who managed to escape the occupation.
Yelyzaveta Tatarinova, film director, spoke about it during the presentation of the documentary at Media Center Ukraine — Ukrinform.
"It was important for us to show the other side of the war, the one that is less talked about. Silence is sometimes scarier than explosions. A city of many thousands is held hostage by russia. They can't tell anyone about it," — she said.
The search for people to be featured in the movie was not an easy task, because everyone who told about the terror of the occupiers still has relatives in the city, and these true stories can harm their closed ones even more.
"The documentary was supposed to center around a woman who had been filming videos for two months in the occupation. And just when the film was ready, representatives of the FSB came to her home, and only by a miracle did she escape punishment. That's why we had to rewrite the script and center the film around a different person," — the director said.
Yelyzaveta Tatarinova said that this film was provided for screening at all state platforms free of charge. Currently, this film has already been broadcast by the biggest TV channels all over the world.
"The world should know about russia's war crimes. They do not have a statute of limitations. All the guilty must be punished. Life under occupation is terror. People are in danger for their words and even for their thoughts," — she pointed out.
Serhiy Pavliuk, chief stage director at Kherson Oblast Theater is at the center of the documentary. He says that the film is important, because it will let everyone see that a silent terror is happening in the city.
"You can leave the occupation, but the occupation does not leave you. When for two months you experience powerful stress and you break free, but a lot of your close people remained there. They were detained and interrogated. The first thing the russians did was make the theater work. Most of the actors did not agree to work. However, there were some collaborators, of course," — he said.
Serhiy Pavliuk said that people must remain vocal about Kherson and all the occupied cities, as people are surviving in inhumane conditions there.
Read more: https://mediacenter.org.ua/news