Back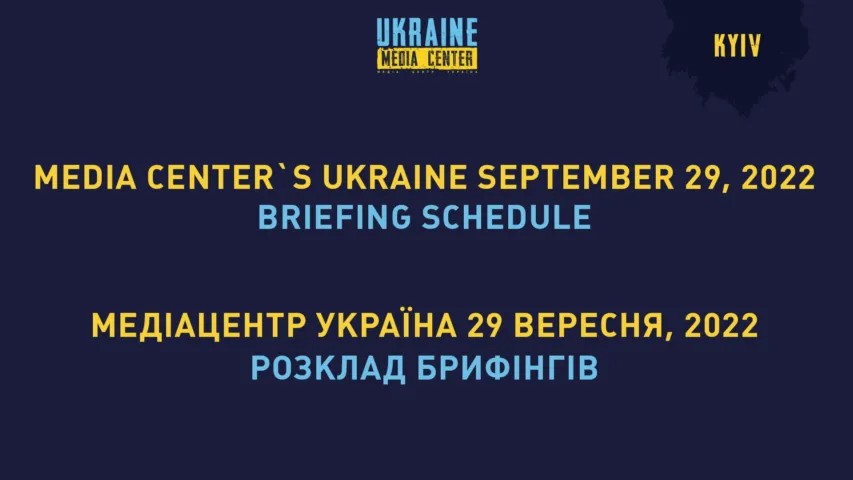 September 28, 2022, 19:30
SCHEDULE OF MEDIA CENTER UKRAINE – UKRINFORM EVENTS (KYIV, 8/16 KHMELNYTSKOHO STR.) FOR SEPTEMBER 29
11:00 AM – Iryna Tushnytska, Executive Director of the SURGe Project implemented by Alinea International with the support from the Government of Canada;
Ihor Vishtak, Director of the Agrarian Development Department of the Ministry of Agrarian Policy; Kostiantyn-Kristian Krush, head of the Regional Development Projects Unit at AT Ukrgazvydobuvannia;
Tetiana Volochai, Director at MKhP-Hromadi Charity Foundation (in person).
Topic of focus: the announcement of the Gardens for the Victory grant contest for municipalities. It is a national-level campaign aimed at supporting the efficient use of available land plots and channeling all resources for growing food to avert a food crisis in Ukraine.
12:30 PM – Roman Prymush, Deputy Head of the State Emergency Service of Ukraine in charge of digital development, digital transformations, and digitalization (in person)
Key topics: Completing tests of the community emergency notification system: the results; the work of SES units in Kharkiv Oblast.
Read more: https://mediacenter.org.ua/news