Back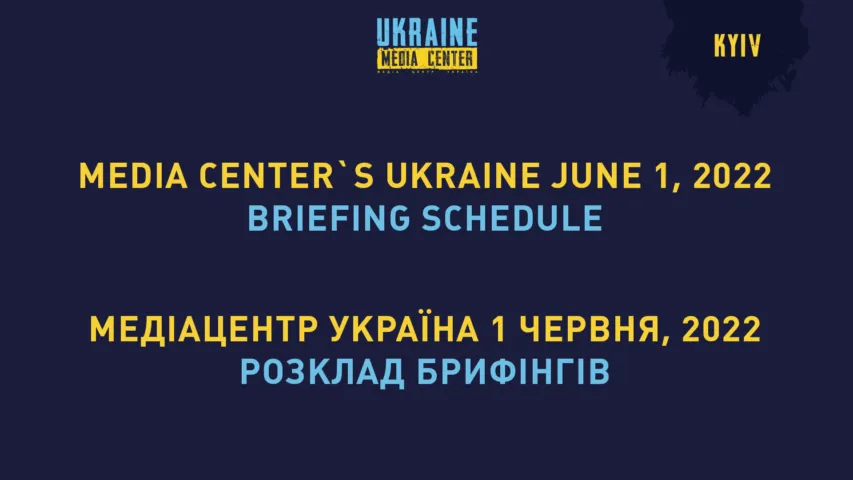 May 31, 2022, 17:11
SCHEDULE OF MEDIA CENTER UKRAINE – UKRINFORM EVENTS (KYIV, 8/16 BOHDAN KHMELNYTSKY STR.) FOR JUNE 1
11:00 AM — Daria Herasymchuk, Commissioner of the President of Ukraine for Children's Rights and Rehabilitation; Maryna Lazebna, Social Policy Minister of Ukraine, Co-Chair of the Coordination Headquarters for the Protection of the Children's Rights under Martial Law; Kostiantyn Koshelenko, Deputy Minister of Social Policy of Ukraine for Digital Development, Digital Transformation and Digitization; Denis Ivanov, Head of Expert Group on the Introduction and Assessment of Electronic Services at the Ministry of Digital Transformation of Ukraine (in person)
Current topics: Protecting the rights of children in wartime, changes in the procedure of adoption during martial law and how advanced digital technologies stand for the protection of children who have lost their parents.
2:00 PM — Kateryna Pavlichenko, Deputy Minister of Internal Affairs of Ukraine (in person)
Current topics: Protection of children's rights during the war; combating violence against children; relocation of children deprived of parental care to foreign countries.
2:30 PM — Oleksandr Motuzianyk, the Spokesperson of the Ministry of Defense of Ukraine (in person)
Current topic: The current situation on the frontline of the russo-Ukrainian war.
3:30 PM — Volodymyr Zhemchuhov, Hero of Ukraine, "Luhansk Resistance Fighter;" Valeria Podkich, representative of military TV, Project Director; Andriy Yusov, representative of the press service of the Defense Intelligence of the Ministry of Defense of Ukraine.
Current topic: Presentation of video project #RukhOporu (Resistance Movement) — video tutorials, which tell how to resist the enemy in the occupied territories.
Contact phone: +380914810004
Join our Telegram channel at https://t.me/UkraineMediaCenterKyiv
Journalists are requested to arrive at least 30 minutes before the event.
Important Notice: Media Center Ukraine — Ukrinform functions as a co-working space! We are waiting for you
Read more: https://mediacenter.org.ua/news