Back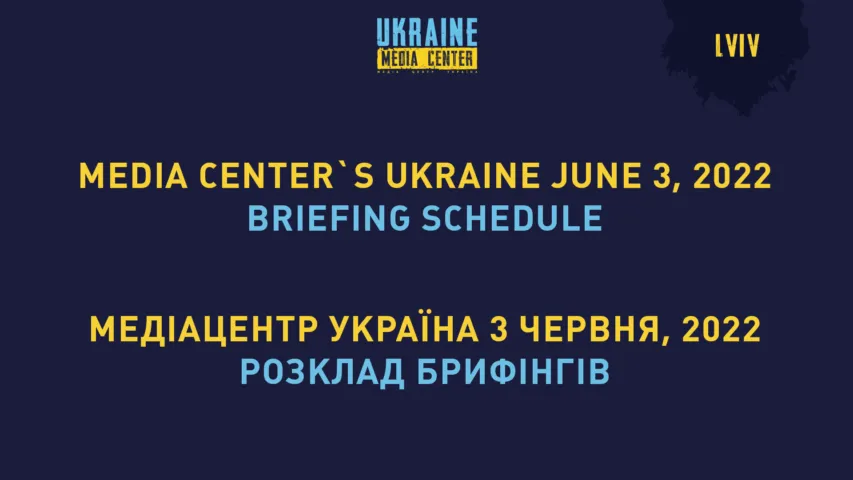 June 2, 2022, 19:05
SCHEDULE OF MEDIA CENTER UKRAINE EVENTS (LVIV, 32 RYNOK SQUARE) FOR JUNE 3
11:00 AM — Serhii Horbachov, Educational Ombudsman of Ukraine
(online)
Current topics:
The educational genocide perpetrated by russians in Ukraine's temporarily occupied territories
Measures taken by Ukraine to protect school and university students in temporarily occupied territories
The access to education for Ukrainian school and university students who were forcibly displaced or left the country
The National Multiple Subject Test (similar to the ZNO External Independent Evaluation) in the war environment.
12:00 PM – SPECIAL EVENT!
Maksym Kozytskyy, Head of Lviv Oblast Military Administration, invites internally displaced persons and volunteers to weave camouflage nets together with the Administration's team. The net will be sent to soldiers of Ukraine's Armed Forces who are in Donetsk Oblast now.
We must support our defenders!
Address: Na Valakh Park (Lviv, 18 Vynnychenka Street)
12:30 PM — Oleksii Makeiev, Special Representative of the Ministry of Foreign Affairs of Ukraine for Sanction Policies (online)
Current topics:
The European Union approved the sixth package of sanctions against russia — what it means
The potential impact of new sanctions on russia's economy
How sanctions will help Ukraine in the war against russia.
1:00 PM — Andrius Tapinas, a Lithuanian journalist, founder of Laisvės TV, initiator of raising funds for a Bayraktar UAV for Ukraine (online)
Current topics:
· How was the idea of the fundraiser born? Why Bayraktar?
· Were there any difficulties during the fundraising process?
· Cooperation with Türkiye.
Why this is interesting:
In Lithuania, EUR 5 million were raised in three days to purchase a Bayraktar TB2 UAV drone for Ukraine. The campaign was launched by the TV anchor Andrius Tapinas. Eventually, Türkiye decided to offer a Bayraktar UAV, for which the whole country of Lithuania raised funds, to Lithuania as a gift to be handed over to the Ukrainian military. EUR 5 million will be spent on ammunition for the UAV drone and other assistance for Ukraine.
The Media Center will function as a co-working space from 10:00 AM to 8:00 PM.
Contact phone:
+38 067 652 91 97
Read more: https://mediacenter.org.ua/news