Back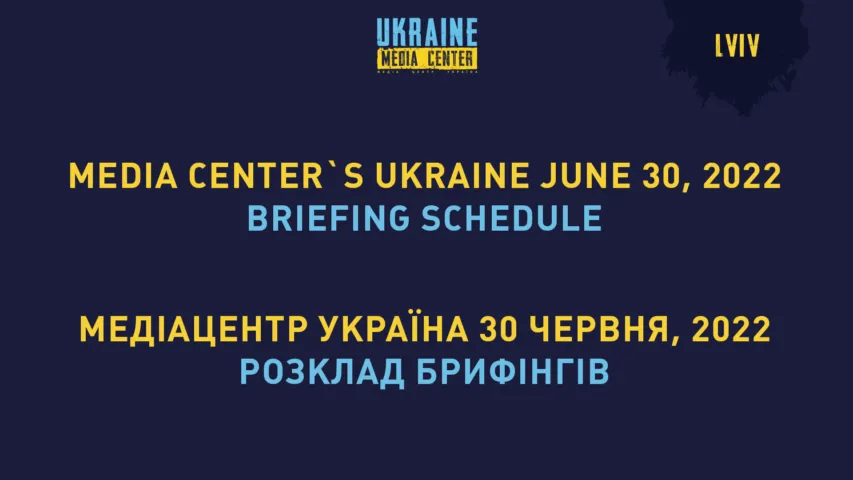 June 29, 2022, 17:33
SCHEDULE OF EVENTS, MEDIA CENTER UKRAINE – UKRINFORM (8/16 KHMELNYTSKOHO ST., KYIV) FOR JUNE 30
12:30 PM – Osnat Lubrani, Humanitarian Coordinator for Ukraine; Esteban Sacco, Head of the Office for the Coordination of Humanitarian Affairs in Ukraine (OCHA); Kate Newton, Deputy Emergency Coordinator, World Food Programme (WFP Ukraine); Matilda Bogner, Head of the Human Rights Monitoring Mission in Ukraine; Murat Sahin, Representative, UNICEF Ukraine; Pierre Vauthier, Ukraine Designated Responsible Officer, Food and Agriculture Organization.
Key topics: Update on the deteriorating humanitarian situation in Ukraine following four months of war and overview of the efforts undertaken by aid organizations to support people impacted by the
hostilities.
1:30 PM – Olha Herasymiuk, Chair of the National Television and Radio Broadcasting Council of Ukraine; Oleksandr Burmahin, Member of the National Council (in person)
Relevant topic: Integration into the European media environment. A roadmap for Ukraine.
2:30 PM – Oleksii Hromov, Deputy Head of the Main Operations Directorate of the General Staff of the Armed Forces of Ukraine, Oleksii Nadtochyi, Head of the Operations Office of the Main Directorate of the National Guard of Ukraine, Oleksandr Motuzianyk, Spokesperson for the Ministry of Defense of Ukraine (in person)
Key topic: Current situation on the frontline of the russo-Ukrainian war.
Read more: https://mediacenter.org.ua/news