Back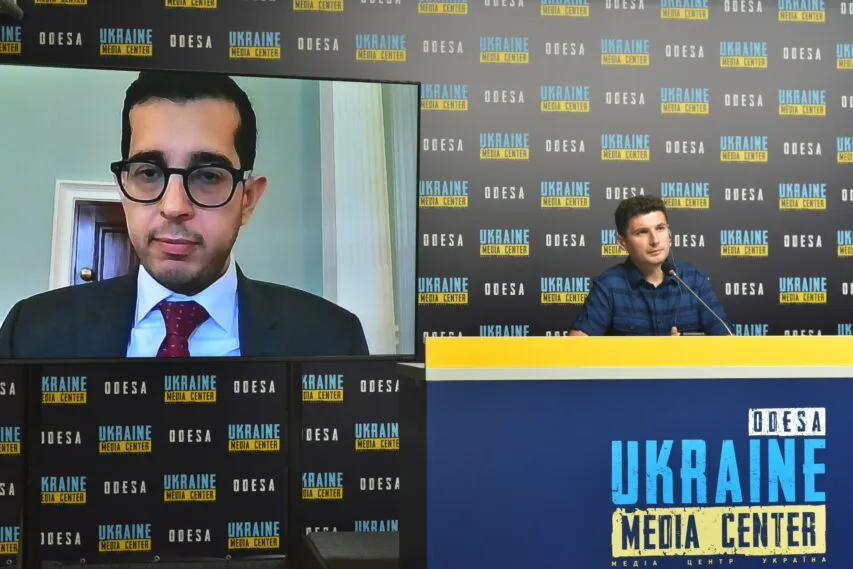 Photo by Media Center Ukraine – Odesa: Dr. Sidharth Kaushal, Research Fellow sea power – military studies of the Royal United Services Institute, London
July 25, 2023, 16:29
Sanctions, air defense for Ukraine, disconnection from the SWIFT system – an expert talks about possible responses to russia's blockade of the Black Sea
However, it is unlikely that Turkey or other countries in the region will help Ukraine overcome this blockade. This opinion was expressed at a briefing at the Media Center Ukraine – Odesa by Dr. Sidharth Kaushal, Research Fellow sea power – military studies of the Royal United Services Institute, London.
He was commenting on the statements by russia and Ukraine that any ships sailing to the ports of the two countries will be considered to be carrying military cargo.
"Russia is effectively blocking the northern Black Sea. And these actions can cause hunger, and we also see violations of food security. And the question is how to bypass the russian blockade and respond to it? If it were only mines… But russia is also using warships. Therefore, I do not see the possibility of a serious reaction from Turkey. Although it could help demine the waters, it has the capability to do so. But it is unlikely that it will do so. The country's leadership has expressed hope that the grain deal will be extended. Their interests also overlap in North Africa, the Middle East, and Syria," – the expert noted.
He added that the response to russia's actions in the Black Sea could be sanctions and additional assistance to Ukraine.
"These may be sanctions that will cause the price of russian oil to fall. Besides, not all russian banks are disconnected from the SWIFT system. In addition, the allies can provide Ukraine with additional air defense systems to protect its ports and grain warehouses," the expert said.
He also added that due to the shelling of the ports of Greater Odesa, the volume of cargo transshipment through the Danube ports has increased significantly.
"russia is also shelling them, but in this case, there are broader geopolitical risks for it if it hits a NATO country," Dr. Kaushal said.
Context: On July 19, the russian Defense Ministry announced that the decision would come into effect on Wednesday night at midnight Moscow time, or 21.00 GMT. The report says that countries whose flags are on such vessels will be considered as supporting Kyiv in the war.
On July 21, the Ministry of Defense of Ukraine warns that from 00:00 on July 21, 2023, all ships sailing in the Black Sea towards the seaports of the russian federation and Ukrainian seaports located in the territory of Ukraine temporarily occupied by russia may be considered by Ukraine as carrying military cargo with all the relevant risks.
In addition, shipping in the areas of the North-Eastern Black Sea and the Kerch-Yenikal Strait of Ukraine is prohibited as dangerous, starting from 05:00 AM on July 20, 2023
Read more: https://mediacenter.org.ua/news