Back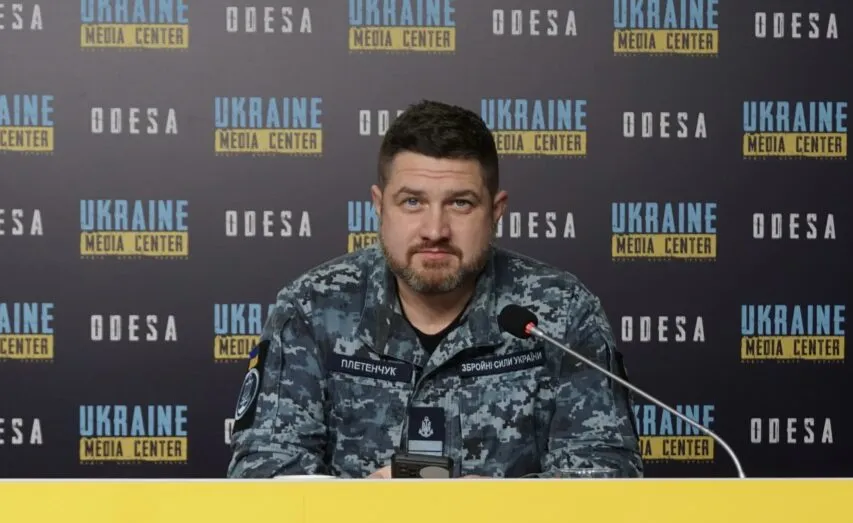 November 21, 2023, 16:28
Russian Navy withdrew missile launchers to a safe distance and left ships in Crimea for protection – Ukrainian Navy spokesman
The situation in the Azov-Black Sea region remains stable, as the actions of the Ukrainian Defense Forces have forced the Russian occupiers to keep their missile-carrying ships closer to Novorossiysk and Tuapse.
This was stated by Dmytro Pletenchuk, spokesman for the Ukrainian Navy, at a briefing at the Ukraine-Odesa Media Center.
"The main combat personnel and cruise missile carriers have left Crimea for safe shores. Now the main task of the Russian aggressors is to intimidate the participants of the grain corridor operating in the northwestern part of the Black Sea. This morning, after the storms, a minesweeper and an anti-submarine ship of the Russian occupiers entered the Black Sea. I emphasize: these are not missile carriers. They are fulfilling the task of protecting the Black Sea area," Pletenchuk said.
He noted that thanks to the actions of the Ukrainian Navy, the sea corridor from the ports of Greater Odesa is working without changes: merchant ships are leaving and entering Ukrainian ports.
The Navy spokesperson said that the fighting on the left bank of the Dnipro River continues.
"Ukrainian Navy marines continue to perform combat missions on the left bank. They know what they are doing. They do it professionally. They are supported by military sailors who are also involved in this operation," emphasized Pletenchuk.
Read more: https://mediacenter.org.ua/news