Back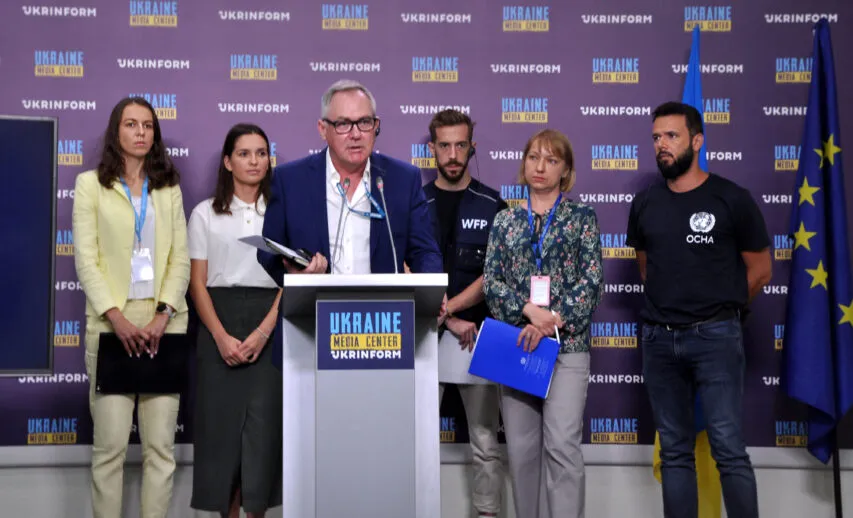 Представники ФАО та ВПП, Медіацентр Україна - Укрінформ, 29 липня
July 29, 2022, 12:31
"russian Invaders Prevent Humanitarian Aid from Being Delivered to Ukraine's Occupied Territories," UN
The United Nations invites the international community's attention to the deteriorating situation in large swaths of Ukraine's territory, for instance, in the east and south, and to the challenges faced by aid organizations to support affected people. During their briefing at Media Center Ukraine — Ukrinform, representatives of the Food and Agricultura Organization (FAO) and the World Food Programme (WFP) provided information about the impact of the war on food production, including how recent attacks which have destroyed many farms can impact food security in the country.
Saviano Abreu, a representative of the UN Office for the Coordination of Humanitarian Affairs (OCHA), stated that over 11 million Ukrainians had received aid from the international organization by now.
"We realize it is not enough. Many Ukrainians currently live under the russian occupation. The UN and other aid organizations were unable to deliver the necessary humanitarian cargo there," he said.
This week, russian invaders prevented the UN from delivering humanitarian aid to the occupied territories. Because of that, almost 50 tonnes of humanitarian aid had to be distributed in settlements where people live under constant shelling and also require assistance.
In her term, Viktoriia Mykhalchuk (FAO) said that the losses caused to the agricultural sector ranged from USD 4 to 6 billion, including the damage to infrastructure.
«According to FAO estimates, Ukraine expects to harvest up to 51 million tonnes of grain this season. However, only some grain depots are accessible. Of those, 35% are still full of grain and oilseeds waiting to be exported," she said.
To overcome this crisis, FAO developed a crop storage concept. A tender for temporary grain storage systems will be announced this week. Farmers from 20 oblasts of Ukraine will be able to obtain the necessary equipment for the provisional storage of grain.
Read more: https://mediacenter.org.ua/news