Back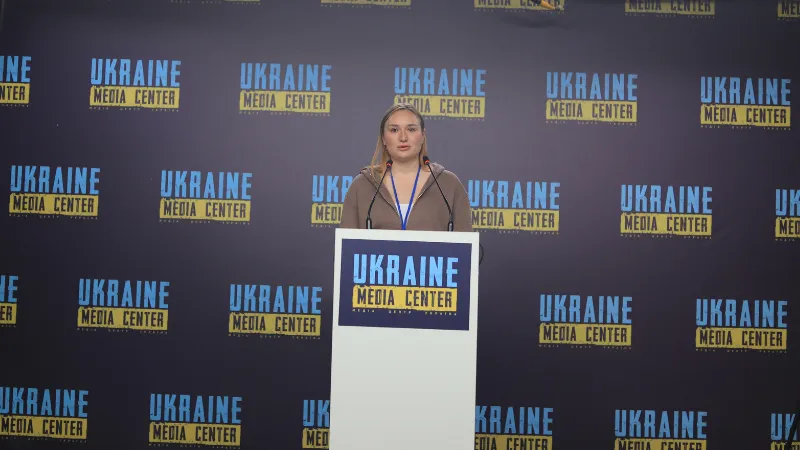 April 5, 2022, 15:08
"russian Invaders' Goal is to Cause Anarchy and Chaos, Impose Their Ideas," an Official from Melitopol
Yevheniia Podlypenko, Head of the Department of Culture and Youth Affairs from Melitopol, a city currently occupied by russian invaders. This lady spent a month under the occupation. During her briefing at Ukraine Media Center, she told the story of her life in the occupied city, stating why Melitopol locals still fearlessly go to rallies against invaders and what the russians' goal in Ukraine is.
How I tried to leave occupied Melitopol starting from March 30:
"The russian invaders did not let humanitarian buses leave Melitopol, and the people had to wait for two days with all their luggage. Around 1,500 Melitopol residents wanted to leave the occupied territory, with more than 500 cars waiting for the opportunity to leave.
"We managed to leave on April 1; they let only 100 cars out, and the remaining cars had to stay in fields overnight. There were battles during the night, with heavy artillery and multiple rocket launcher fire. The russian invaders threatened people with weapons and demanded that headlights and mobile phones be turned off. They threatened to open fire if the people did not comply. We had no water and no food.
Residents of Vasylivka brought us some food and water."
"Other people, who traveled later, were shelled from grenade launchers. They encountered an armored vehicle of the invaders, and those started firing grenades toward Zaporizhia. People had to leave their cars, throwing themselves into the roadside ditch to cover children with their bodies."
About her life in occupied Melitopol:
"It is not life; it is a humanitarian disaster. There is a pseudo-government headed by Halyna Danylchenko and collaborators. They established their administration."
"They are removing Ukrainian flags, claiming that they are symbols of Nazis, drug addicts, and the criminal government. So instead, they put up their flags and some concocted symbols styled after Soviet flags."
"They turned off access to (Ukrainian) communication networks, the Internet, and TV. On their russian TV channels (they turned them on instead of those Ukrainian), they keep promoting the idea that Ukraine is a Nazi country and that the Ukrainians should cease to exist as a nation."
"They kidnap officials every day, threatening and torturing them, keeping them as hostages. They blackmail those who refuse to cooperate—almost all of them. So, the people do not have anything to do other than leave."
About rallies by Melitopol residents against the russian invaders' regime:
"We rallied every day. Thousands of locals are against the russian occupation. They were oblivious to the occupiers' shooting at people, threatening, and kidnapping the activists.
"We know who our legitimate city mayor is; we know our government, and we reject the administration they are imposing on the city now."
"People are guided by the love of their city—it was a flourishing and prosperous city before the occupation."
 About the goal of russian occupiers:  "The goal of the russian occupiers is to wreak havoc, create anarchy, and impose their ideas and information. As a result, there is a complete lack of order; russians are abominable degenerates who torture Melitopol residents and create a humanitarian crisis."
Ukraine Media Center. Follow the news via the links below:
Website: https://mediacenter.org.ua/
Twitter: https://twitter.com/CenterUkraine
Facebook: https://www.facebook.com/UkraineMediaCenter/
YouTube: https://bit.ly/3whbxSm 
Telegram: https://t.me/lvivmediacenter