Back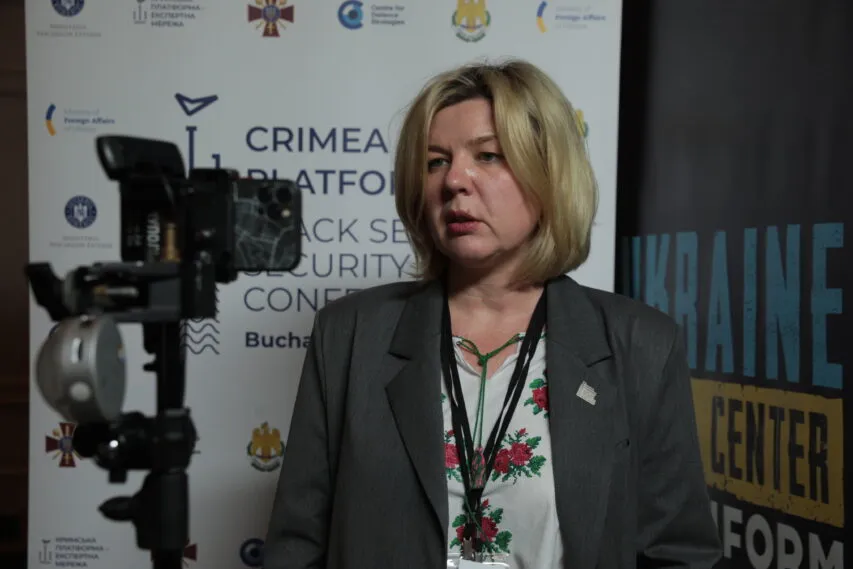 Alina Frolova, Deputy Minister of Defense of Ukraine (2019–2020) and Deputy Chair of the Board of the Center for Defense Strategies, Media Center Ukraine — Ukrinform
April 13, 2023, 13:29
Russia is a clear threat to all Black Sea countries –  Alina Frolova
The situation in the Black Sea today is complicated, as Russia threatens all Black Sea countries.
It was emphasized by Alina Frolova, Deputy Minister of Defense of Ukraine (2019–2020) and Deputy Chair of the Board of the Center for Defense Strategies, during a presentation at the Media Center Ukraine — Ukrinform.
"The situation is tough as there are only two major powers in the Black Sea – Russia and Turkey. Russia is an obvious threat to all Black Sea countries, so we can consider it a hostile power. Unfortunately, the rest of the Black Sea countries, except Turkey, do not have sufficient capabilities to deter Russia," she said.
She is convinced that today Ukraine needs to work together more closely with Turkey to strengthen its position not only in supporting Ukraine with weapons but also in developing a tougher stance of Turkey towards Russia in the Black Sea. Cooperation with Romania, Bulgaria, and Georgia is also essential to formulate and strengthen common goals.
Alina Frolova noted that in supporting the Ukrainian Navy in the current situation, "we would like to count on our NATO partners, among others."
"Romania, Bulgaria, and Turkey are NATO countries. Thus, NATO can strengthen its defense and protection capabilities. We also see that we can form additional missions involving additional players. For example, Norway, Sweden, Denmark, and the Baltic countries, are well known of the threat posed by Russia, and can provide its naval capabilities, following situational awareness capabilities and thus strengthen the activity of the Black Sea maritime states," she added.
In addition, Alina Frolova is convinced that in order to maintain a balance in the Black Sea in the coming decades, the presence of global leaders is required.
"Ukraine can be a leader in the process in terms of the ideological component and in terms of the fact that we are committed to liberating Crimea and making it a safer place. But in the future, in order to maintain the balance of power in the Black Sea in the coming years in coming decades, we need a greater presence of global leaders. Such as the United Kingdom and the United States. Strengthening the role of NATO, as well as joining forces with other democratic Black Sea countries."
Read more: https://mediacenter.org.ua/news