Back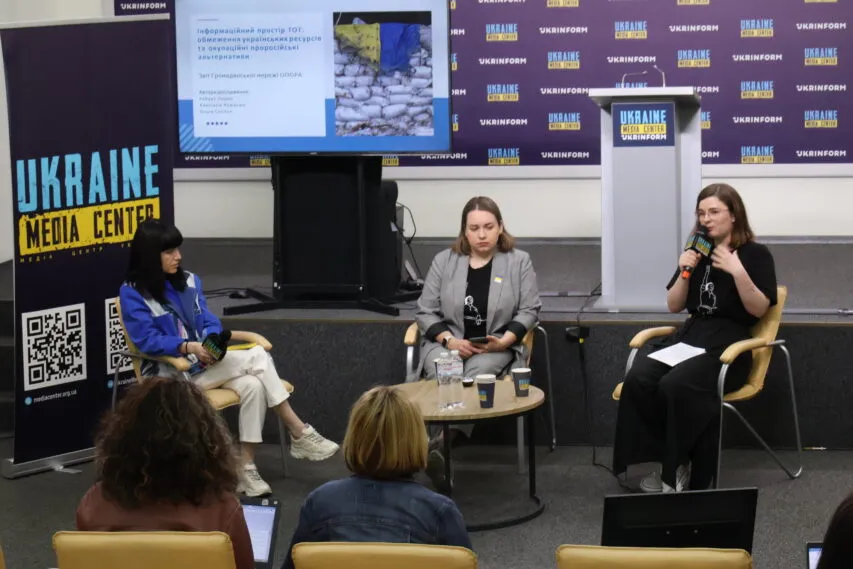 Аnalysts at Civil Network OPORA, Media Center Ukraine — Ukrinform
May 17, 2023, 16:40
russia blocks 979 Ukrainian online resources in temporarily occupied territories — research by civil network OPORA
In its research, civil network OPORA identified Ukrainian online resources blocked in the temporarily occupied territories and in russia. Mass media websites and news portals are among the majority in the list.
Olha Snopok, an analyst at Civil Network OPORA, made this statement during the presentation of the research at Media Center Ukraine — Ukrinform.
"After russia enters the occupied territories, it disconnects Ukrainian providers and actually installs its own providers in the occupied territories, extends all those legal norms and restrictions, which are in effect in the russian Internet space, to the occupied territories. Therefore, we can actually assume that more or less the same websites that are blocked in russia are most likely also blocked in the temporarily occupied territories," OPORA analyst Olha Snopok explained.
She noted that after analyzing the register of websites blocked in russia, which is maintained by the russian NGO "Roskomsvoboda," they found 979 Ukrainian online information resources blocked in russia. Access to most of them was prohibited by the decision of the Prosecutor General's Office of the russian federation already after the start of the full-scale invasion.
The majority of the websites in this list are mass media and news portals. These are all the largest all-Ukrainian media. For example, "Ukrainska Pravda," "NV," "Radio Liberty", "LIGA.net", etc. As well as local mass media, particularly those from the temporarily occupied territories — the websites of CitySites company (0352.ua, 0462.ua) and the information portals of Nova Kakhovka (novakahovka.city), Enerhodar (venergodare.info), Volnovakha (volnovakha.city), Mykolaiv (nikolaev-city.net) etc.
The second largest category of blocked websites is the official websites of the Ukrainian government. These are, for example, the Center for Countering Disinformation, websites of Ukrainian ministries, the website of the President's Office, etc.
The third large category of online resources blocked by russia is the websites of NGOs, human rights groups and volunteer initiatives, including those that collect funds for the Armed Forces of Ukraine and document war crimes.
"For example, in the temporarily occupied territories, the website "Come Back Alive" and, in general, the majority of the websites that collect donations for the Armed Forces of Ukraine, and websites that document russia's war crimes in Ukraine, are blocked."
You can read the research at the following link:
https://www.oporaua.org/report/polit_ad/24714-informatsiinii-prostir-tot-obmezhennia-ukrayinskikh-resursiv-ta-okupatsiini-prorosiiski-alternativi
Read more: https://mediacenter.org.ua/news