Back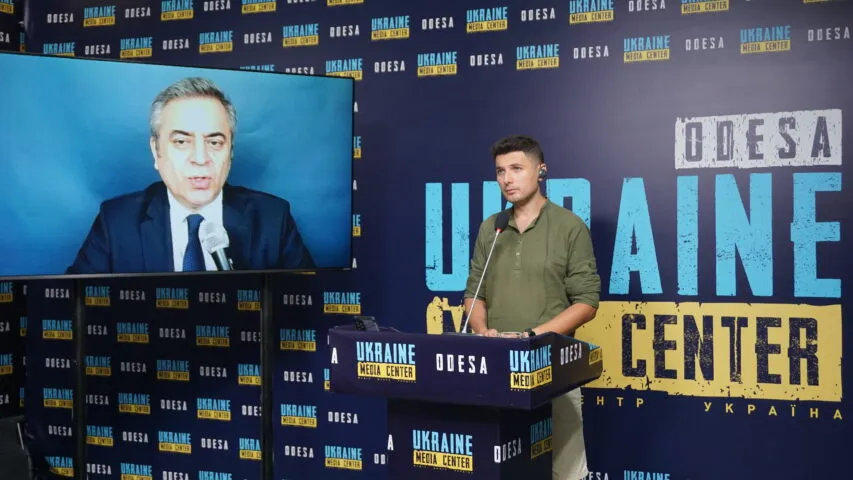 Photo by Media Center Ukraine – Odesa: Claudiu Degeratu, independent expert and associate professor of the faculty of history at the University of Bucharest
August 17, 2023, 16:08
Romanian citizens are already being advised not to distribute videos of Ukrainian air defense system – Expert
According to Claudiu Digeratu, an independent expert and associate professor at the Faculty of History at the University of Bucharest, Romania should have a "clear rule not to publish such videos." The expert said this at a briefing at the Media Center Ukraine – Odesa.
He commented on the video of Ukrainian air defense near Izmail and Reni, which was posted online by Romanian users on August 16. The Ukrainian Embassy in Romania has already called on Romanian citizens not to do so.
"We are already hearing recommendations in Romania not to do this in the future. I am sure that Romanians will remember this lesson. It's quite new for us to have a conflict of this magnitude happening so close to our borders. But we are learning quickly. We have already issued recommendations to Romanian citizens not to film or distribute videos of Ukrainian air defense," – the expert noted.
He added that due to russia's activity in the Black Sea and shelling of Ukrainian ports on the Danube, the risks for Romanian vessels have increased, but Romania is ready to respond if the country's airspace is violated.
"There are risks that are difficult to control, such as the fall of missile debris. But if there is a threat of border violation, we will respond," – Dr. Digeratu added.
He also said that last year a russian drone entered Romanian airspace and flew to Serbia. Romanian air defense controlled its movement, but did not see any threat to the country's security.
Read more: https://mediacenter.org.ua/news