Back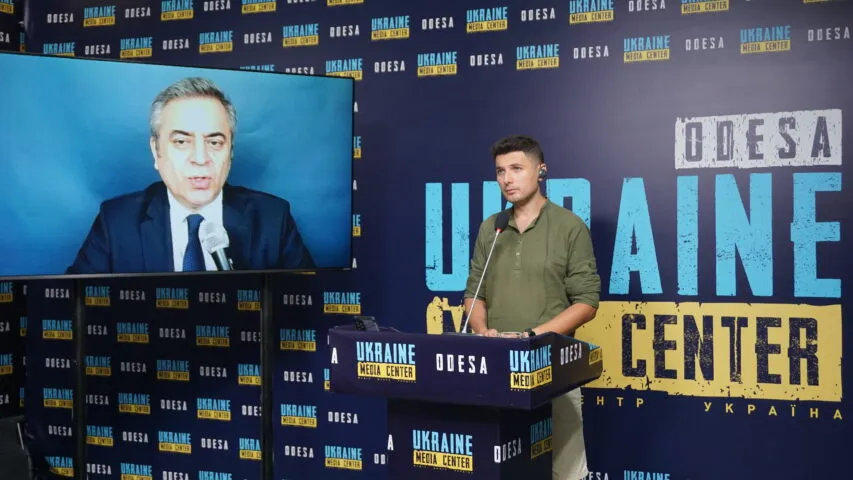 Photo by Media Center Ukraine - Odesa: Claudiu Degeratu, independent expert and associate professor at the Faculty of History, University of Bucharest
August 17, 2023, 16:05
Romania has strengthened control at sea due to mine explosion off the coast – expert
It was the first explosion, and Romanian border guards had already found mines before, but they were able to control them. This was stated by Claudiu Digeratu, an independent expert and associate professor at the Faculty of History of the University of Bucharest, at a briefing at the Ukraine-Odesa Media Center.
He noted that such control takes place at two levels – national and within the framework of cooperation with NATO.
"At the national level, we continue to monitor the Danube Delta and the Black Sea near Ukraine, where russia is active. In addition to our ships and air assets, we also cooperate with NATO's reconnaissance mission, as well as with Moldova, Turkey, and Bulgaria. Romania has now tightened control on the coast, particularly at the resorts, to prevent risks to its citizens, tourists and commercial routes on the Black Sea," – the expert said.
He added that despite the increased control and cooperation with NATO Headquarters, no one can provide 100% security guarantees for Romania and Bulgaria.
The expert also noted that the mine explosion and possible other threats from Russia are widely discussed in Romania.
"We are studying their activity, we have already seen provocations against commercial vessels, against Bulgaria. In Romania, this is now the main topic of discussion, we believe that Russia is waging a hybrid war against Ukraine and other Black Sea countries," – Dr. Degeratu added.
Read more: https://mediacenter.org.ua/news