Back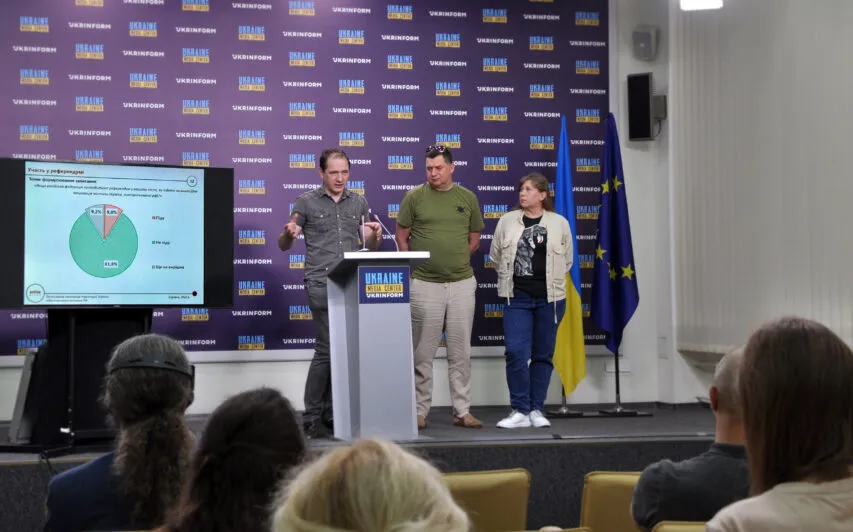 Презентація опитування мешканців територій України, підконтрольних військам росії, Медіацентр Україна-Укрінформ, 15 серпня
August 15, 2022, 13:29
Results of a Survey in Temporarily Occupied Territories: 80% of Ukrainians State They Won't Go to Referendum and Can't See Their Future with russia
These are the results of a survey undertaken by Active Group. The survey results have been presented today, August 15, at Media Center Ukraine — Ukrinform.
Dmytro Hromakov, the head of the International Center for Countering Russian Aggression, said that the russians have already gone through several "referendum" dates, and this subject is being put on the back burner in their agenda.
Andrii Yeremenko, Director at Active Group, emphasized that polling and surveying in the occupied territories had been an interesting challenge. Researchers used phone calls and questionnaires disseminated in the occupied territories to collect information. The survey was carried out mainly in the south.
"We gathered 600 valid responses. People admit that the most widespread emotions in the occupied territories include fear, disgust, hatred, and helplessness. On the other hand, some people feel joy about the occupation, although merely 8% of them," he said.
Most citizens visited or supported rallies against the occupation. According to the survey, almost all citizens lost their jobs.
"60% of respondents stated that their oblast should be an integral part of Ukraine; 6.8% supported staying in Ukraine subject to federalization, and 6% supported joining russia. It is important to emphasize that we claimed to be a russian company during the survey," Andrii Yeremenko emphasized.
According to analysts, even the citizens supportive of russia believe that their welfare and safety will deteriorate if russia gains full control, "81% of respondents stated they would not go to the referendum, and 9% were undecided."
In addition, all respondents told stories of being robbed by invaders, about russians' atrocities in the occupied territories, and stated that russians used peaceful civilians as human shields when they needed to transport their military personnel.
Valentyna Bykova, Manager of Analytical Projects at the International Center for Countering Russian Aggression, said that the invaders would create an illusion of self-determination in the occupied territories.
"The invaders do not expect the "referendum" to go easily. Many political technologists are working on this issue in occupied territories and russia. According to our data, they are engaging the cadre specializing in dirty political technologies. The only conclusion is that russia realizes that the Ukrainians are against "self-determination," so they employ substantial resources," the manager of analytical projects stated.
She added that the "referendum" campaign ran under the slogan "Together with russia." Thus, the point of the whole undertaking is not self-determination but pure programming that the Ukrainians will be a part of russia, whether they want it or not.
Read more: https://mediacenter.org.ua/news