Back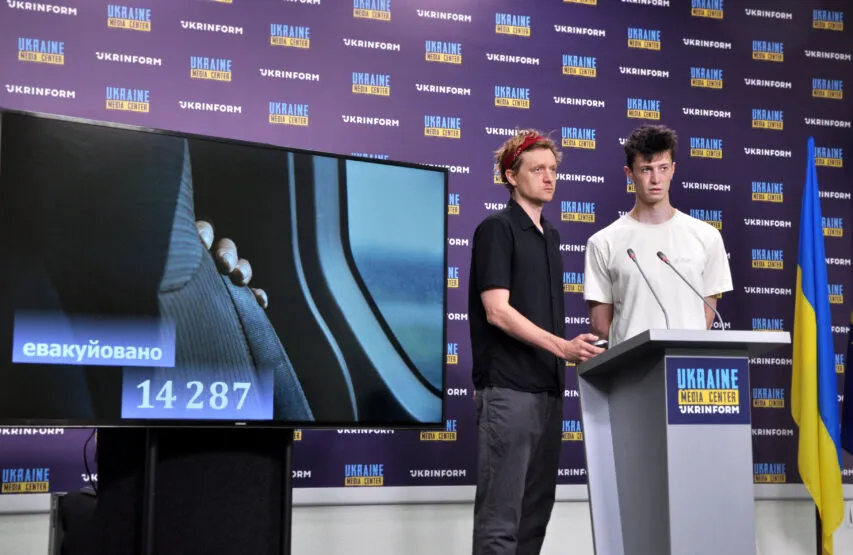 Ігор Ключник, актор, режисер, засновник волонтерського фонду RescueNOW, Віталій Бандура, співзасновник та волонтер RescueNOW, Медіацентр Україна - Укрінформ, 26 липня
July 26, 2022, 13:58
RescueNOW volunteering foundation manages to evacuate over 14,000 Ukrainians from hottest spots in the east
RescueNOW volunteering and charity foundation is composed of 202 people, who had different lives and goals — restaurateurs, photographers, IT workers, actors, teachers, investors. All of them put their lives on hold, and now they are helping the residents of the eastern part of Ukraine in every possible way.
Igor Klyuchnyk, actor, stage director, and RescueNOW founder spoke about the foundation at Media Center Ukraine — Ukrinform.
"Our mission is to take care of people who are left without work or housing. We still have a lot of work ahead of us, because in the eastern region, where we work, a cold winter is coming. And we set ourselves an ambitious goal — to make our foundation international," — he said.
Vitalii Bandura, co-founder and volunteer of RescueNOW added that the volunteers of the foundation created an entire IT company with the implementation of advanced technologies.
"Thanks to this, it has already been possible to evacuate over 14,000 people from Luhansk, Donetsk and Kharkiv regions. Volunteers also delivered more than 65,000 food kits to people that could not or did not want to leave hot spots. It is for these needs that an online patronage platform was created, where those willing can donate to help such people," — he said.
Igor Klyuchnyk added that more than 650 people are handicapped and the elderly. Special transport is needed for their evacuation. In addition, the organization's volunteers managed to find free shelter for almost 600 people.
According to the organizers of the foundation, they have already passed international certification.
Read more: https://mediacenter.org.ua/news