Back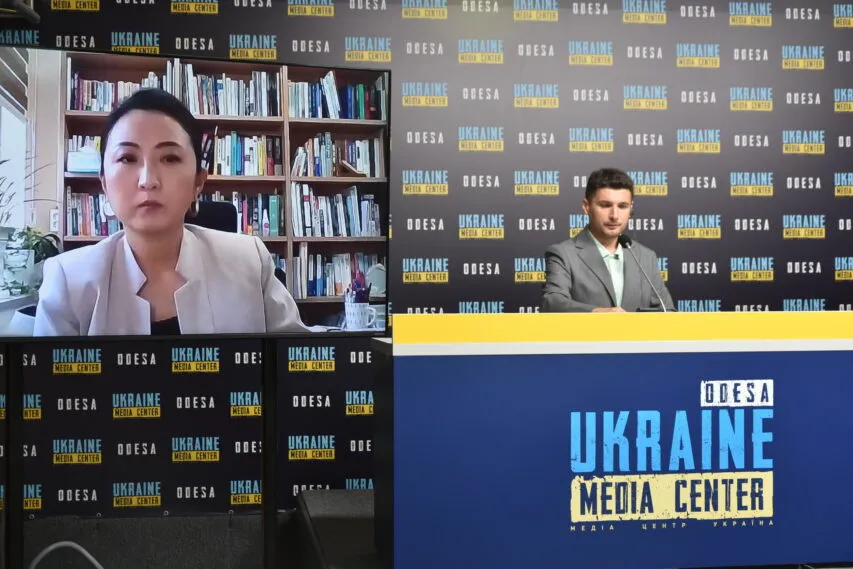 Photo by Media Center Ukraine – Odesa: Lim Eunjung, associate professor of the division of international studies at Kongju National University
July 19, 2023, 15:26
Republic of Korea should not provide Ukraine with lethal weapons due to the threat from the DPRK – Korean expert 
The supply of lethal weapons will have a very strong impact on the political landscape in the country, which is currently very polarized. Lim Eunjung, associate professor of the division of international studies at Kongju National University, spoke about this at a briefing at the Media Center Ukraine – Odesa.
"President Yun Seok Yeol visited Bucha and Irpin in Ukraine, and he was shocked and saddened by what he saw. And at the traditional meeting with the government, which takes place every Tuesday, the president said that we should stand in solidarity with the people of Ukraine. And many in society also support your country. However, many people criticized the President for not returning to the Republic of Korea when the country suffered from floods," – the expert said.
She also noted that the population of the country is concerned about their security due to the neighborhood with the DPRK, which constantly threatens the republic.
"There is a growing concern that we may be too closely involved in a war in another country. And the decision to provide lethal weapons directly to Ukraine or through third countries will have a significant impact on the political landscape in the Republic of Korea. The president said that it would be difficult to insist on any assistance to Ukraine other than humanitarian aid. It will also be difficult for the government to provide more aid than it is now, especially when it comes to weapons," – Dr. Lim said.
She also recalled that on July 17, the Ministry of Defense announced that Korea would not provide Ukraine with lethal weapons, but was considering providing mine action equipment.
She added that the Republic of Korea is now recording an increase in train traffic on the border between russia and the DPRK, which may look like arms trafficking.
"The DPRK regime continues to support russia despite the sanctions, it is a matter of survival for them, and we see that russia's influence on North Korea is even greater than China's, and it is growing," – Dr. Lim said.
She also said that there is a secret agreement between Seoul and Washington on the possibility of selling munitions to the United States. And according to media reports, the Americans have already bought several batches of this ammunition in 2022 and 2023.
"People are worried that these purchased munitions could be used in the war in Ukraine, and that russia could provide weapons to the DPRK," – the expert noted.
She added that Korea could play a role in the reconstruction of Ukraine and the Ukrainian army after the war.
"We know how to recover after the war, we have technologies, knowledge, and skills. And this experience will be useful for Ukraine," – the expert emphasized.
Read more: https://mediacenter.org.ua/news