Back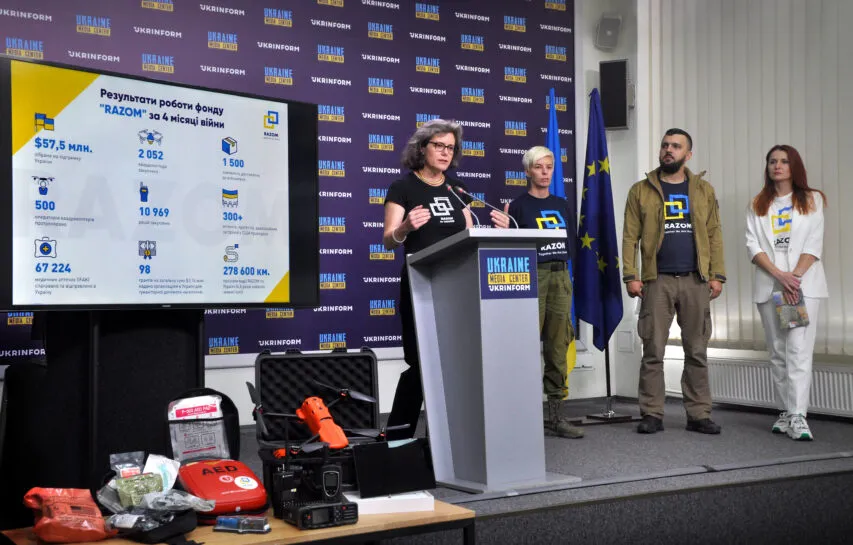 Фонд "Razom for Ukraine"
July 12, 2022, 13:20
Razom Foundation Raised over USD 57 Million for Ukraine, with Funds To Be Spent on Communication Equipment, Medicines, and UAVs
A briefing of the Razom for Ukraine Charity Foundation took place at Media Center Ukraine — Ukrinform today, on July 12. The organizers explained how they managed to raise a record-setting amount of USD 57 million for the Ukrainian Army and described the Foundation's plans.
Dora Khomiak, President at Razom for Ukraine, indicated that the Foundation started working back during the Revolution of Dignity when a like-minded community of people willing to help Ukraine came into existence in the USA using the Internet.
"We have been working together for about 8 years; about 4,000 donors supported our various projects to develop Ukraine in various ways. Today, we already have about 130,000 donors. Thus, we were prepared to help actively when russia's full-scale invasion started. So far, we have raised USD 57.5 million in aid. We have purchased and distributed essentials to the tune of USD 38 million. They include life-saving medicines," she said.
Evelina Kurilets, Executive Director at Razom for Ukraine Charity Foundation, emphasized that the organization intensified its effort to "stop bleeding" immediately after russia's all-out invasion. She referred to purchasing everything needed at the front line, from medicines to UAV drones. "We have already handed over 67,000 first-aid kits for our defenders. We also purchased USD 12 million worth of communication equipment," Evelina Kurilets said.
In addition, the organization pays special attention to training military personnel as pre-medical assistance providers and UAV operators. Developing a Psychological Support Center will become the next step for the Foundation. It has opened two units of this kind in Lviv and Ivano-Frankivsk. The Razom Foundation also supports IDP centers by providing financial aid for procuring essential goods.
Read more: https://mediacenter.org.ua/news