Back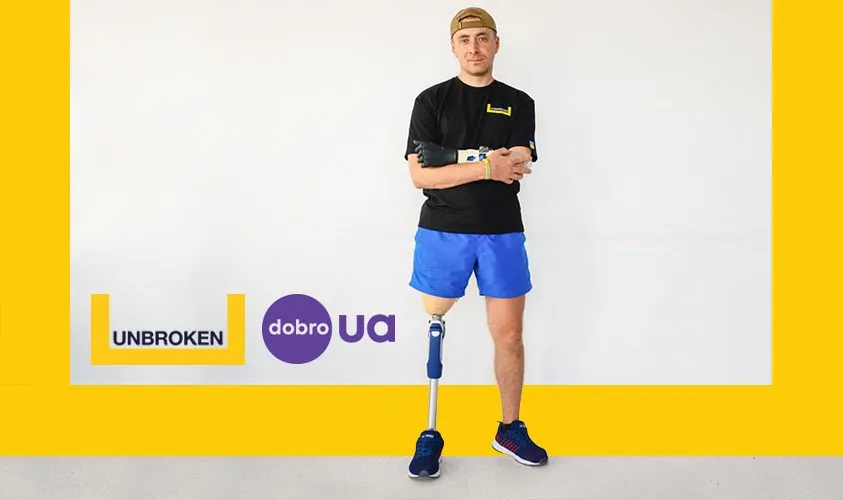 September 16, 2022, 14:48
Prosthetics for the Unbroken: Lviv Launches a Campaign to Raise UAH 100 million for Bionic Hands for Wounded Ukrainians
The veteran Mykhailo Yurchuk is the first in Lviv to get a bionic prosthetic arm. He lost his arm and leg in Kharkiv Oblast this spring, but today he can move his fingers again. Esper Bionics, a Ukrainian manufacturer, provided the artificial bionic arm for Mykhailo. The NEZLAMNI National Rehabilitation Center of Lviv's First Healthcare Association attached the bionic arm with financial support from Symphony Solutions, an IT company.
"Attaching the first bionic artificial limb is yet another important step toward rescuing Ukrainians in Ukraine. Hundreds of people need it. We are working to offer them this opportunity. It is the goal of the NEZLAMNI National Rehabilitation Center of Lviv's First Healthcare Association. We are making strides toward it by developing prosthetic care, reconstructive surgery, orthopedics, and physical and mental rehabilitation system. We will provide the best treatment for our unbroken people," Oleh Samchuk, Director General at Lviv's First Healthcare Association, emphasized.
Usually, those who lost an arm get hooks or cosmetic prosthetics. However, bionic artificial arms are a high-quality solution for these people. Equipped with special sensors, they can reproduce customary movements of a limb, so if one tenses a muscle of the amputated arm, his hand responds.
Hundreds of Ukrainians wounded during the war are waiting for prosthetics like the one Mykhailo Yurchuk has. For this reason, the NEZLAMNI National Rehabilitation Center and the charity platform dobro.ua launched their charitable project Prosthetics for the Unbroken. The project will provide modern bionic artificial limbs to at least fifty Ukrainians. To do so, UAH 100 million needs to be raised. To take part in the fundraiser, visit dobro.ua and click on Support. There, you can indicate the amount you are prepared to contribute. Alternatively, you can send a UAH 20 charity text message to 88001.
NEZLAMNI National Rehabilitation Center, based in Lviv's First Healthcare Association, is a unique place offering a chance to be rescued and rehabilitated to everyone affected by the war. The NEZLAMNI Center launched a prosthetic care program to help Ukrainians recover from combat injuries as soon as possible.
Read more: https://mediacenter.org.ua/news