Back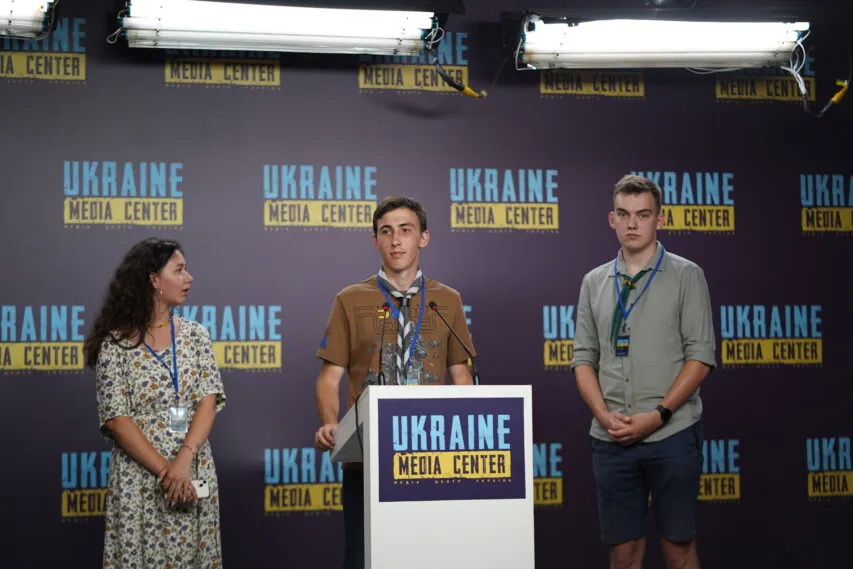 Вікторія Лишак, Назар Кірик та Ярослав Булишин у Медіацентрі Україна, 26 липня
July 26, 2022, 14:04
Plast boy scout from Lviv runs half marathon every day to raise funds for drone for Ukrainian Armed Forces
UAH 100,000 has already been collected by Nazar Kiryk, a member of Plast National Scout Organization of Ukraine in Lviv to buy a drone for a reconnaissance unit of the Armed Forces of Ukraine. Since July 1, the boy has run a half marathon every day, that is, a distance of 21 kilometers. He posts videos of his runs on social networks. Nazar Kiryk himself told about this during a briefing at Media Center Ukraine.
"Every day I wake up thinking about the half marathon. I put on my sneakers and go to my front. I am motivated by my goal and I understand that people support me. It inspires to continue, to never give up," — Nazar Kiryk said.
The cost of the drone that the boy is collecting funds for is UAH 260,000. Therefore, as Viktoria Lyshak, Communication Officer at Lviv Center of Plast, says, the organization is calling for support for the project.
"Every donation, every UAH 5-10 is important. Every kilometer conquered can inspire someone to (get to) 21 kilometers. Do what you love, encourage others to donate and join initiatives," — Viktoria Lyshak said.
According to Yaroslav Bulyshyn, Chairman of Lviv branch of Plast, the organization has been helping the Ukrainian army since the first days. Many Plast boy scouts have joined the ranks of the Ukrainian Armed Forces, others are engaged in volunteering.
"Many people have created their own small initiatives to help the army or those who need support. Nazar is a great example of what our organization does. After all, every day we wake up with the mission to help as many people as possible survive and resist the enemy," — Yaroslav Bulyshyn said.
Read more: https://mediacenter.org.ua/news