Back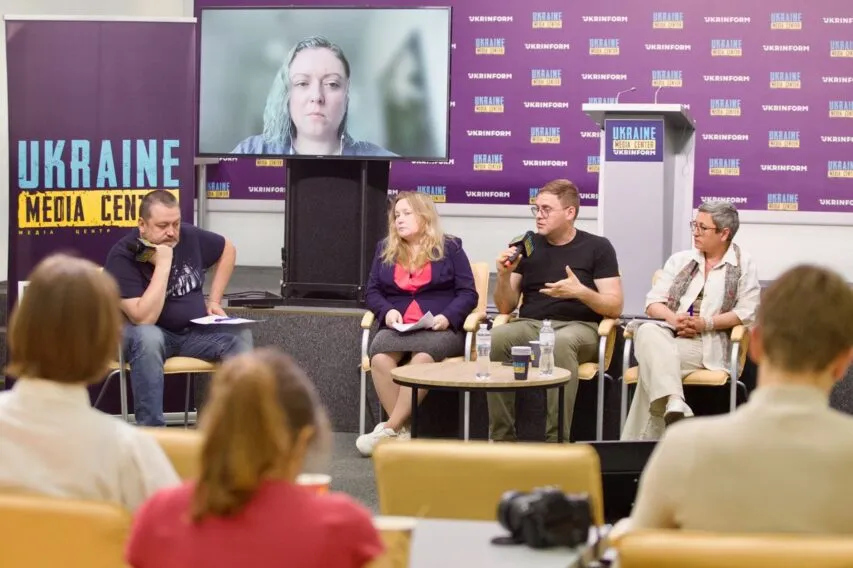 June 8, 2023, 16:56
Over 100 civil society organizations issue "Ukraine Peace Appeal: Towards a More Informed Solidarity"
A wide range of Ukrainian civil and expert organizations came together to jointly and unequivocally speak against the substitution of notions and hushing up the fact of russian aggression.
In connection with another surge of attempts to bring Ukraine to the negotiating table with the aggressor, more than 100 civil society organizations issued " Ukraine Peace Appeal: Towards a More Informed Solidarity," which emphasizes that stopping arms supplies in the current conditions will not lead to sustainable peace but will only result in acceptance of the occupation.
This, among other topics, was discussed during a panel discussion at Media Center Ukraine – Ukrinform.
Iryna Eihelson, Candidate of Psychological Sciences, representative of Mediation and Dialogue Research Center, noted, the document contains 10 provisions covering important issues related to the understanding of peacebuilding in the country and to the context of russia's armed aggression.
In addition to the important aspects outlined in the appeal, she noted that the document specifically states that Ukrainians, as the state and the nation, choose to live in a world where human life, people's rights, democracy, international law, and freedom of speech are valued. And that this is exactly how Ukrainian peace is seen today.
"We are saying that we appreciate that various contacts and humanitarian negotiations are maintained with regards to the return of prisoners, the return of deported children, and the withdrawal of the armed forces of the russian federation. That is, we are not saying that we are against negotiations per se. They are happening in that sense, and we really appreciate all the support in this regard, but we would rather have an informed solidarity where we can together rethink traditional approaches to peacebuilding. And (we'd rather – Ed.) Ukrainian experts were involved in developing new ones," noted Iryna Eihelson, quoting one of the provisions of the appeal.
The full text of the appeal is available at the following link:
https://www.ukrainepeaceappeal2023.info/_files/ugd/594c0d_69f5f939c8f94251bdaea8631411a757.pdf
Read more: https://mediacenter.org.ua/news