Back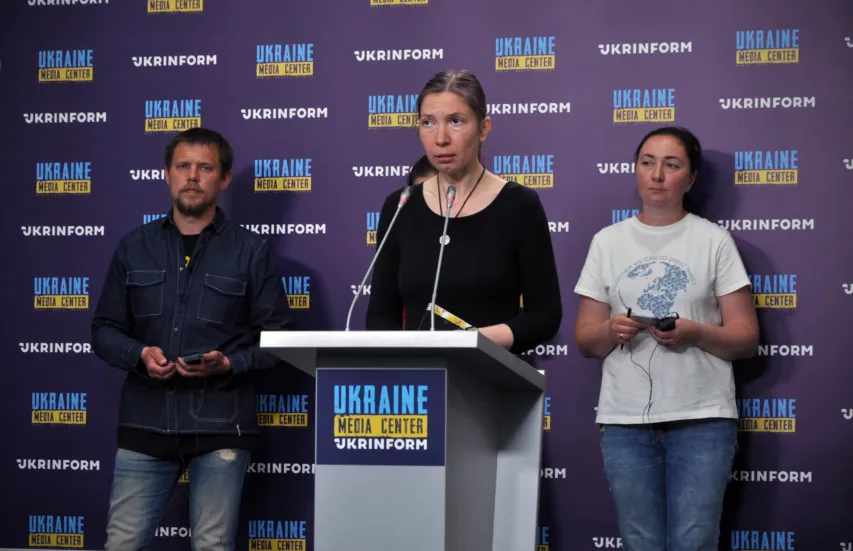 May 14, 2022, 14:29
"Our Warriors Have Already Been in Hell, Give Them an Opportunity to Come Back to Earth," Families of Azovstal Defenders Requested China to Help with the Procedure of Extraction of the Ukrainian Soldiers
Families of the military personnel of Mariupol Squad now defending Azovstal Steel Works urged world leaders once again to undertake the extraction procedure and rescue the Ukrainian soldiers.
Today, on May 14, at their briefing at Media Center Ukraine — Ukrinform, they called upon Xi Jinping, President of the People's Republic of China, to influence russia, China's economic partner, to make it agree to the extraction procedure for soldiers.
Nataliia Zarytska, wife of a soldier from the Azov Battalion defending Azovstal Steel Works in Mariupol, said that her husband had sent her messages indicating that russia would be able to drop 500 air bombs and launch 40 missiles and engage infantry to mop up our fighters. Obviously, the invaders are prolonging the torture. They are being shelled from all possible weapons, including those prohibited by conventions. As a result, the wounded military personnel get wounded again.
"Dear world leaders, do not keep silent; otherwise, the whole world will be transformed into Azovstal. We are not afraid of dying, but we are afraid of living in a world where evil is perpetrated. After all the negotiations, there is one more person in the world whose request would not be denied by putin easily. We believe that China keeps guard over international values. We urge Xi Jinping, President of the People's Republic of China, to demonstrate his great love, care for international values, and wisdom and join the effort to rescue the defenders of Mariupol. They will not agree to become POWs; we have eyewitness accounts that soldiers taken into captivity were executed," she said.
Families of the soldiers emphasized that Recep Erdogan, President of the Turkish Republic, had already responded to the Ukrainians' request and suggested an extraction procedure providing for sending a vessel to the port of Berdiansk with Turkish observers who would ensure transparency of the procedure and help to pick up fighters of the Mariupol Squad.
The Turkish leader also guaranteed that these soldiers would be able to stay in Turkey until the end of the war and that they would not engage in combat anymore.
Stavr Vyshniak, the father of a warrior from Mariupol Garrison, emphasized that his son, who serves in Azov Battalion, had been in hell together with several other units. They had no help, no reinforcements, no food, and medicines. But they are holding their ground.
"We, relatives of the soldiers, ask all world leaders, again and again, to rescue them by undertaking their extraction into a neutral country, where they will stay till the end of the war. There were many briefings and requests addressed to all leaders of the world. Today, we ask Xi Jinping to undertake the extraction procedure and become a peacemaker in this war. Hardly any time is left; we are counting minutes down. Our soldiers had already been in hell, so allow them to come back to Earth again," Stavr Vyshniak stated.
Hanna Ivleieva, a military serviceperson and wife of Mariupol's defender, said that there were not just wounded soldiers at the metal works—there were only critically and seriously wounded soldiers. Only those, who have lost their arms or legs, do not fight.
"I am a soldier with the Marines. My husband, my commanding officers, and close friends are now in Azovstal. They were the first to engage in the battle in this war. We are proud of all Azovstal defenders, as they are stronger than the steel used to be produced here. But we do not want them to be killed there. We need our heroes alive. We ask the President of China as putin's economic partner to undertake all the necessary procedures and rescue our guys," she emphasized.
Read more: https://mediacenter.org.ua/news