Back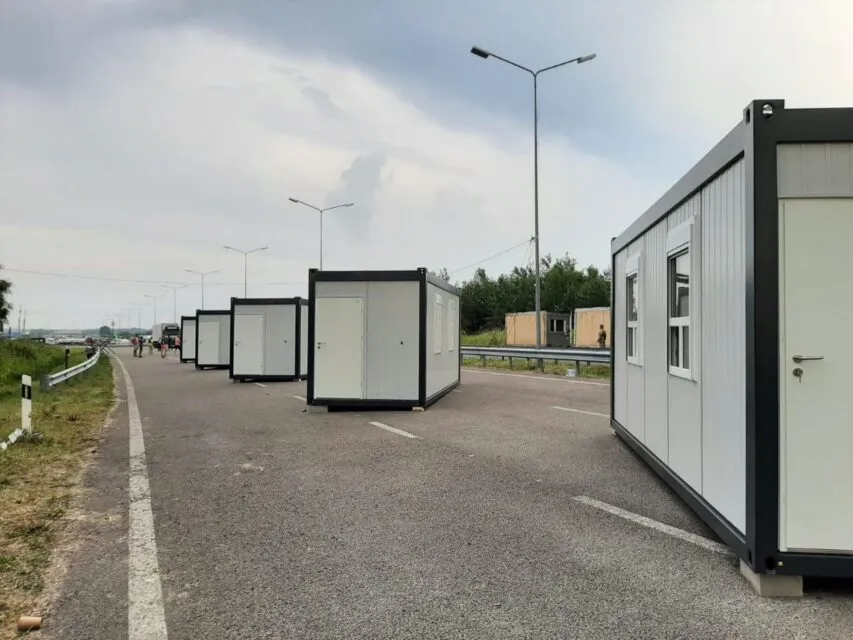 фото Львівської митниці
June 15, 2022, 12:52
Open Border: Several Oblasts Build Checkpoints to Help Ukrainian Business Community
Next week, a new road for passenger cars will start working at the Krakivets–Korchova checkpoint on the Ukraine-Poland border. Also, the number of lanes for cargo traffic will double from four to eight. Daniil Menshykov, Acting Head of Lviv Customs Office, disclosed these plans during his press briefing in Ukraine Media Center. According to him, the checkpoint expansion resulted from the Open Border, a joint Ukrainian-Polish project. It aims to facilitate the work of the business community – both importers and exporters.
"We are moving the clearance of passenger vehicles to the new road A4. Pavilions for customs and immigration officers are being erected there. We will complete this work soon and open the new road the next week," Daniil Menshykov said.
According to him, the pilot project implementation started at the Hrushiv–Budomierz checkpoint on the border between Ukraine and Poland. It has been cleared for the heavier cargo traffic.
"So far, the checkpoint has been limited to 3.5 tonnes. It was open for cars not exceeding this mass only. Today, at 8:00 AM, we opened it for 7.5-tonne vehicles. We hope this decision will be efficient for our exporters. It is a 6-month pilot project that will run till December 15, 2022. We will make systemwide decisions as a result of its implementation," the Acting Head of Lviv Customs Office stated.
In addition to the Ukrainian-Polish border, checkpoints are also being developed on the border with Romania. According to Igor Matviichuk, Deputy Chief of Staff—Head of the Border Control Organization Unit of the Western Regional Directorate, the checkpoint in Krasnoyilsk in Chernivtsi Oblast is 90% ready, and the one in Diakivtsi is 60% ready.
"These are new roads, especially Diakivtsi. We expect this checkpoint will take over the cargo traffic from the Porubne checkpoint, which clears about a thousand vehicles per day for departure," Igor Matviichuk explained.
Read more: https://mediacenter.org.ua/news