Back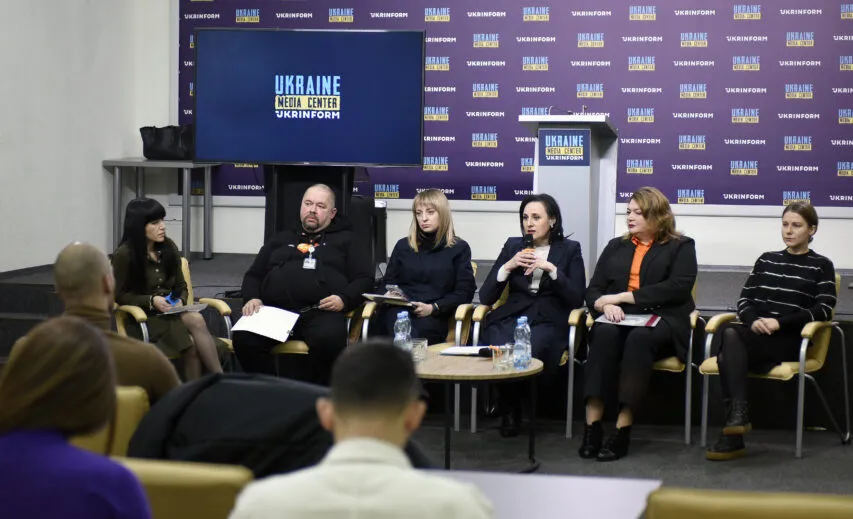 Participants of the "16 Days Against Violence" Discussion, Media Center Ukraine — Ukrinform
November 25, 2022, 13:18
Only 2–3 out of 10 Persons in Ukraine Are Ready to Respond to Violence They See Nearby, Even in Their Own Family — Participants of the "16 Days Against Violence" Discussion
The full-scale war has brought new violence challenges to Ukrainians, but the war should not be a reason to normalize this phenomenon. On November 25, the All-Ukrainian Action "16 Days Against Violence" started, and on the eve of November 1, the Istanbul Convention came into force in Ukraine. All this was discussed by the participants of the panel discussion "16 Days Against Violence" hosted by the Media Center Ukraine — Ukrinform.
"We are fighting for our state to give a helping hand to everyone, so that everyone feels protected. The ratification of the Istanbul Convention is a big step forward, because it allows us to take a number of additional measures that we must implement so that there is less violence in our country, so that we fight violence more efficiently and offer social assistance to people," Oksana Zholnovych from the Ministry of Social Policy of Ukraine said.
"Compared to last year, the number of domestic violence-related appeals to the police decreased by 24%. But we need to understand the reason. First of all, a large number of territories are or were under occupation: people could not apply, and the police could not record. In addition, many Ukrainians moved abroad, became separated from their families, and this is also the reason. In the western territories, where the biggest number of internally displaced persons stay, complaints of violence have increased in number compared to last year. Therefore, we must understand that the statistics are somewhat different," Kateryna Pavlichenko from the Ministry of Internal Affairs of Ukraine said.
"A study that we conducted in 30 cities showed that only 2–3 out of 10 persons are ready to respond to violence they see nearby, even against their family members. But we can defeat violence if we are all sensitive to this phenomenon. A war is violence in itself that surrounds us and normalizes this phenomenon in our perception. We want to prevent this and urge you to be sensitive, not to allow violence to become normal," Pavlo Zamostian from the UNFPA in Ukraine pointed out.
"As of today, the Office of the Human-Rights Ombudsman of the Verkhovna Rada of Ukraine has received 36,000 appeals. There were 116 appeals related to domestic violence. Last year there were 180 of them. The war has pushed the issue of domestic violence into the background, but it exists. However, we also drew a parallel. Those preventive measures that had been carried out with all interaction subjects by the Ministry of Social Policy, the Ministry of Internal Affairs, the National Social Service of Ukraine, also began to produce results," Olena Vykhor from the Office of the Human-Rights Ombudsman of the Verkhovna Rada of Ukraine said.
"I believe that the national legislation of Ukraine on countering domestic violence is at a good level, and we do not have much to finalize. But today it is more important for us — and this is the case already — that the Parliament cooperates with the police, the judges, who in practice understand what is operational so far and what needs to be improved. It is very important that we have ratified the Istanbul Convention. It is really about greater guarantees of protection, about more attention not only to law enforcement officers, but also to citizens," Maryna Bardina from the Verkhovna Rada of Ukraine said.
Read more: https://mediacenter.org.ua/news