Back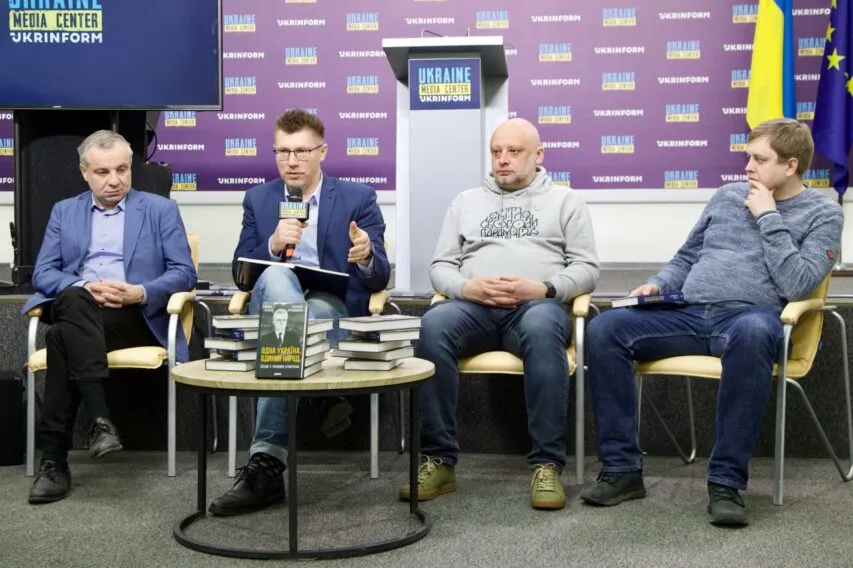 May 10, 2023, 16:51
"One Ukraine, one people. Conversations with Leonid Kravchuk" — presentation of the book about the first president of Ukraine
Media Center Ukraine — Ukrinform hosted the presentation of the book "One Ukraine, one people. Conversations with Leonid Kravchuk" released by "Folio" Publishers to mark one year since the death of the first president of independent Ukraine.
During the presentation of the book, Taras Shevchenko, Deputy Minister of Culture and Information Policy of Ukraine for European Integration, pointed out that it was important for the Ministry that at least one publication dedicated to the memory of the first president of Ukraine, Leonid Kravchuk, was published as part of the annual art competition "Book to Strengthen National Unity."
"I am sure that just one book or just one event is definitely not enough to convey the memory and legacy left by the first president of Ukraine. But I think that this small brick in building the history of the Ukrainian state is important and useful," he noted.
Oleksandr Krasovytskyy, one of the authors and the publisher, explained that this book contains two texts. The first one is the book by Leonid Kravchuk himself, which was presented at the Lviv Book Forum in 2010. And 100 pages of conversations with Leonid Kravchuk recorded by Oleksandr Krasovitsky in 2011 and early 2012 were added to it.
According to the publisher, the book also contains a lot of inside information about the events in Bialowieza Forest, which have not been made public before.
"I think that (naming of – Ed.) streets and avenues in honor of Leonid Kravchuk and a monument to the man who created our independent state are still to come," Oleksandr Krasovytskyy said.
Read more: https://mediacenter.org.ua/news