Back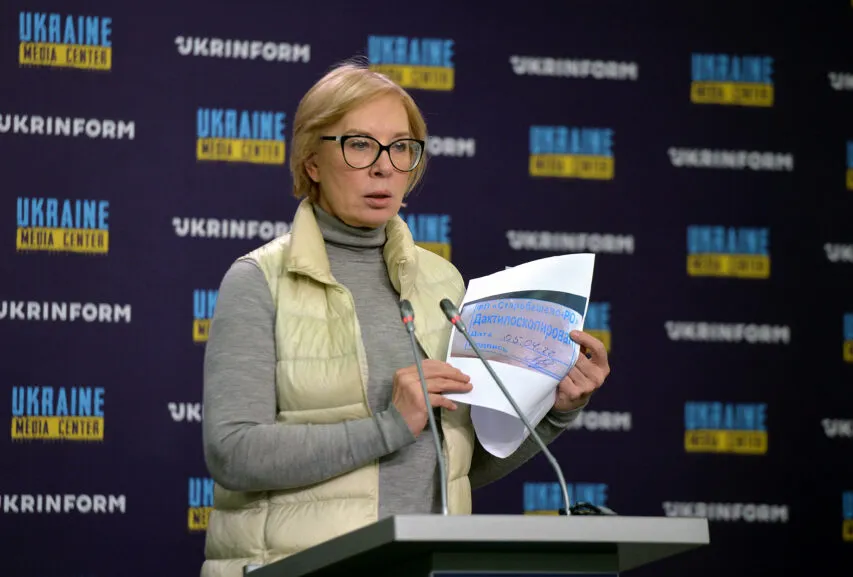 May 9, 2022, 16:05
One million of our citizens forcefully relocated to russia, Ukraine initiates their return — Denisova
The right to live is one of the most important rights violated on the occupied territories of Ukraine. A forced mobilization is taking place.
✅Not only are the occupiers hiding their crimes, but also relocating everyone they deem unreliable in an unknown direction, Commissioner for Human Rights of the Verkhovna Rada of Ukraine, Lyudmyla Denisova said at a briefing at Media Center Ukraine — Ukrinform.
💬«There are over 20,000 citizens in certain camps. Those who don't pass occupiers' «filtration» are relocated in an unknown direction, and their fate remains unknown. Those, who have passed these measures are forcefully relocated to russia,» — she said.
Lyudmyla Denisova commented on three documents issued by the russians, so a person could travel in occupied cities: «this is a document (proving) that the person has passed «the filtration», the permit to travel the city and the permit to leave the city.»
According to the Human Rights Commissioner of the Verkhovna Rada of Ukraine, over one million 185,000 citizens including 200,000 children are currently in russia. «We have proof that forceful deportation was prepared beforehand. There are facts that confirm that russia had directives for their districts on how many Ukrainians and where to deport (them).»
Denisova also added that there are volunteers in russia who are locating the camps with deported Ukrainians and are reporting on them to Ukraine.
💬«Ukraine has stepped forward with an initiative to create an international commission consisting of ombudspersons from countries bordering russia. We have experience with bringing back Ukrainian citizens out of russia via third party countries. But you understand the scale, over a million citizens are in the hands of the occupiers, and we only brought over a few families,» — she said.
The occupiers are making the
residents of occupied Mariupol clear out ruins of the buildings with corpses under the debris. People can't endure what they see there and lose consciousness. The
occupiers also don't allow burying bodies. They are taken outside the city and
put in a mass grave, likely, to hide the evidence of their crime.
«As of now, the Commissioner's hotline has received over 35,000 calls about 76,000 citizens. There were even calls from occupied Kherson. Wardens of penitentiaries called to report that the occupiers were planning on giving weapons to people held there and making them fight against Ukraine,» — she noted.
Lyudmyla Denisova added that the occupied territories are currently suffering from a humanitarian crisis, as the Ukrainians do not have access to medicine and are left without food and water for weeks. They are calling and asking for help.
Read more: https://mediacenter.org.ua/news